Classy 3yo Survived scores brilliant win at Hastings after mowing his rivals down.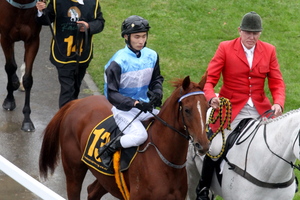 If you have an excuse for a beaten runner behind Survived in Saturday's $70,000 Hawkes Bay Cup, keep it to yourself.
It won't wash.
It's doubtful anyone has the memory to recall a more dominant major handicap victory, especially from a horse having just his seventh raceday start.
Okay, Survived had just 53kg on his back, but as the sole 3-year-old in the race he was entitled to a weight concession.
With such a small weight scale from top to bottom in the race, he was not that well advantaged.
Ten years ago the minimum on this race would have been 50kg, not the 53kg we saw on Saturday, and the bottom-weighted horses would have had easier jobs.
But this time weight meant nothing - Survived could have carried another 4kg on Masa Tanaka's saddle and still won as he liked.
Survived is not a physically strong individual, indicative of the fact his owner, longtime Hawkes Bay supporter Don Gordon, considered having him put down as a foal because he was too small to race.
But size is just one measure of a good horse and not always important.
Survived has what all topliners have to possess - an electric sprint when required, and remarkable athleticism.
Masa Tanaka had ridden Survived just once before, which resulted in a 9-length victory at Rotorua, so he had an idea of what Survived was capable of, but even he was staggered by the sprint the horse produced approaching the home turn at Hastings on Saturday.
"I couldn't believe how quickly he picked up when I asked him to sprint," said Tanaka. "It was remarkable."
The winning margin was 4 lengths but could have been greater, particularly had he kept a true course.
Trainer John Bary is never without a top horse and this is the former polo player's next star.
Bary will wait until today to make a decision on a one-race Queensland raid for Survived.
"What we really want is to have him in Melbourne in the spring."
You can never look at Bryce Revell and imagine a talented jumps jockey.
So why did he give up?
"Pies," he says.
But the Taranaki horseman is just as good as a trainer, as he proved with I Am Sam's first-up Hastings sprint win on Saturday.
I Am Sam, like his trainer, has always somehow been under the radar.
Saturday's sprint win - his 10th victory - took him close to $200,000 and even closer to a decent race over the Queensland winter carnival.
All 10 of those wins have been in either slow or heavy ground and if Queensland strikes a wet carnival, and that's more often than not, I Am Sam will be well suited. He is capable of picking up a good race.
Sitara also turned in a top fresh effort to be just a long head away second, and third-placed Jetset Lad, only a nose back, should have won.
Masa Tanaka, shooting for a notable double, took Jetset Lad to the same outside strip he came down on Survived to win the Cup and looked set for victory, but Sitara constantly took his line of running for the entire last 300m.
"I wasn't to know, but if I'd gone inside Kelly Myers on Sitara, instead of outside her, I'd have won for sure," said Tanaka.