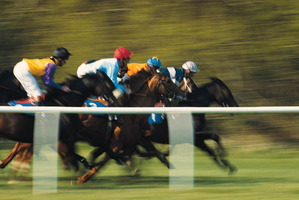 Sydney trainer Gary Portelli's already high opinion of the unbeaten Rebel Dane has been revised upwards after the colt's come-from-behind win in the Royal Sovereign Stakes at Rosehill on Saturday.
After a slow start to the group two race, Rebel Dane ($3.10) came out last of the nine runners and that's where he stayed until the home turn.
As he started to make ground in the straight, Portelli thought Urquidez ($11) had given the field the slip and resigned himself to a minor placing at best.
However, Jason Collett on Rebel Dane had other thoughts and urged him to the line to put a head on Urquidez.
"When he was so far back I thought we might have had a few excuses," Portelli said. "At the top of the straight I thought, 'Here we go we might run a nice third or fourth.'
"I don't want to get carried away but he might be better than I first thought. I don't think I've ever trained a horse like him with the abilityto adapt that he has."
The Royal Sovereign (1200m) was Rebel Dane's fourth career start and his first in stakes class.
Portelli said the next step would be the Hobartville Stakes (1400m) before the group one Randwick Guineas (1600m) at Warwick Farm in four weeks.
"He looks as if he will get 1400 to 1600m with no trouble on that performance," he said.
"It's exciting."
Collett said his confidence was boosted at the 200m when he felt Rebel Dane give his all.
"I was confident at the 200. I felt him kick," Collett said. "We had a plan to go forward but had to switch to Plan B.
"He's tough and he's got a very big heart him. It was very special, I can't stop smiling."
Group one winning New Zealand colt Sacred Falls started the $2.80 favourite and made some ground to finish fifth after being one of the last out of the gates.
"I thought he ran well," said trainer Chris Waller.
- AAP