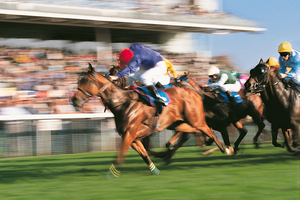 Group one winning jockeys Michelle Payne and Michael Walker have been called to front stewards over alleged betting activities along with fellow rider Anthony Darmanin.
The inquiries will be held in Melbourne tomorrow after a lengthy investigation by Victorian stewards, following a routine audit of wagering service providers' betting accounts.
The three will be questioned over bets placed on local and international thoroughbred races. None of the jockeys rode in the races in question.
Payne, who recently came back to riding from a serious injury, will be questioned over three bets totalling $450 through a Sportsbet account in her name.
Walker will be quizzed over four bets totalling $57 placed via a Tattsbett account in his name while bets amounting to $100 were placed in a Sportsbet account bearing Darmanin's name.
The bets placed in Payne's account in May 2011 include a $200 double on international racing and two multiwin bets covering international races and sports events.
Darmanin's account shows two $50 multiwin bets in April 2011 which include jockeys' challenges combined with sports.
Victorian jockey Damien Oliver is serving a 10-month ban after admitting to placing a A$10,000 bet on the winner of a race in 2010 in which he rode the second favourite.
Form analyst Mark Hunter placed Oliver's bet via retired Queensland bookmaker Laurie Bricknell.
Sydney jockeys Peter Robl and Blake Shinn served lengthy disqualifications after they were found guilty in late 2010 of betting through a TAB account held by Robl's wife.
- AAP