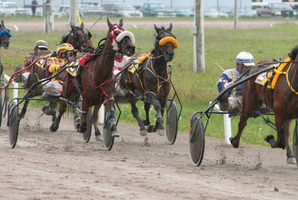 Outside barrier draws are going to make one of the glamour nights of the harness racing season a tricky one for New Zealand's harness elite on Saturday night.
Many of New Zealand's best horses will face off at three venues: Alexandra Park, Melton and Menangle.
While the Alexandra Park heat of the re-jigged Interdominion features just three horses, it still poses some interesting tactical questions.
However, it is the Kiwis overseas who face more vexing problems.
That includes champion trotter I Can Doosit, who returns to racing after a seven-week break in a A$30,000 Trot at Melton.
He has drawn wide at barrier six over 2240m, with two of Australia's best trotters drawn inside him.
With trainer-driver Mark Purdon using the race as a lead-up to the A$200,000 trot at Menangle on March 3, he faces a dilemma - does he balance up I Can Doosit and ease him into the race or head straight forward and try and re-establish his dominance over the Australians?
Australian bookies have I Can Doosit $1.70 to win that comeback race but that may be based more on past deeds than his exact readiness for Saturday night.
His exceptional 4-year-old pacing stablemate Smolda faces a second-line draw over a sprint distance at Melton, with local flyer Restreppo drawn to settle a long way in front of him.
Again, Smolda is the favourite but faces a huge tactical battle. The same applies to the Kiwis who head to Menangle for Saturday night's qualifiers for races like the Ladyship Mile and Chariots of Fire on March 3.
While Elusive Chick has drawn four in the $50,000 Robin Dundee Stakes, fellow Kiwi mares Cheer The Lady (seven) and Tatijana Bromac (eight) will have to come from outside the other favourites to win.
The same applies to Kiwi Ideal (seven) and Christian Me (eight) in the Hondo Grattan, where they both chase an invitation to the A$200,000 Chariots Of Fire.
Christian Me has looked something special this season and pushed Terror To Love close last start so has opened the favourite but does have former Victoria Derby winner Scandalman drawn inside him.
The only good news for the Kiwis at Menangle is Mah Sish's drawing perfectly at barrier two in the supplementary Interdominion heat, with Four Starzzz Flash alongside at barrier three.
That gives the pair a decent shot at the quinella, which would mean instant invitations to the A$750,000 Interdom Final on March 3.
•Alexandra Park will race both Friday and Saturday night this weekend.