Rival trainer knows Caribbean Blaster will be giving Kiwi pacer big start.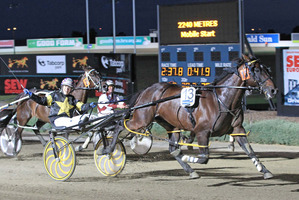 Aussie trainer Andy Gath is adamant the bookies have read tonight's A$400,000 ($494,000) Hunter Cup wrong.
Because he says there is no way his superstar pacer Caribbean Blaster deserves to be close to equal favourite with Kiwi pacer Mah Sish.
The pair dominate betting on the 3280m feature which highlights a huge night of transtasman rivalry at Melton this evening, with five races featuring New Zealand stars.
They deserve their place at the head of the markets as Mah Sish was brilliant in the Ballarat Cup last week and Caribbean Blaster has been consistently outstanding since returning from New Zealand Cup week.
But the gaping difference between the pair tonight is Mah Sish starts off the front in the standing start event and Caribbean Blaster off a 10m handicap.
And Gath, an astute judge of form, knows a 10m handicap can often mean 30m of field position.
"I realise we are right up against it because we are likely to be giving Mah Sish a huge start," said Gath. "He will probably work his way to the front and we could have 10 horses between us and him.
"Which means we might have to sit parked for the last lap to try and beat him, which I am not sure we can do. So he deserves to be the favourite and by some way."
Gath is hoping for at least one Achilles heal in Mah Sish, the fact he had tended to go his best races with a two-week turnaround, rather than backing up after eight days like he is tonight.
"I am hoping that continues but he does have a great trainer and driver so he is the one we all have to beat."
Mah Sish has been outstanding this summer and seems to have hardened up to the realities of open class racing after the spring.
He has the manners and stamina to win tonight and unless he races below his best it is hard to see how he won't be part of the quinella.
Fellow Kiwis Four Starzzz Flash and Highview Tommy are also in good form but the latter faces a 10m handicap so would need a hot pace.
Four Starzzz Flash was victim of a rare poor drive from Dexter Dunn last Friday at Ballarat but could surprise tonight, with a nice run handy to the speed. Still, his right odds are about $12.
Once again champion trainer Mark Purdon holds key chances of winning three feature races, including both the main trots tonight.
Escapee has to overcome I Didn't Do It and her own bad manners in the free-for-all trot, while Dr Hook doesn't have to overcome much in the A$50,000 Australasian Trotting Champs.
He has fallen into the perfect race for him, with only former pacer Mister Zion looking to have any chance of competing with him after their heat wins last Friday.
Dr Hook should get in front of him soon after the start though and that could be the winning of the race, with Earl Of Mot the most likely pest for punters.
Purdon also has Smolda in a A$25,000 free-for-all he should win for fun but the Kiwis face a stumbling block in the A$200,000 Victoria Derby.
Local 3-year-old Guaranteed unleashed a 26.8-second last 400m in his heat last Saturday and if he is able to secure the lead without too much hassle he should win again.
There is a fair amount of gate speed on the front line though, so the race may be trickier than his $1.70 quote suggests.
The best of the New Zealand hopes should be Ohoka Punter but he would be best with a hot pace early, which would allow him to swoop into the race at the bell and try to outstay Guaranteed.

Invading Melton
* A huge Kiwi contingent contest five feature races at Melton tonight.
* Mah Sish is a deserved favourite for the A$400,000 Hunter Cup.
* Other leading chances for New Zealand wins include Dr Hook, Escapee and Smolda.
* The Victoria Derby looks a tough race to crack.