Marsh managed to buy Karaka Million winner Ruud Awakening at under his limit.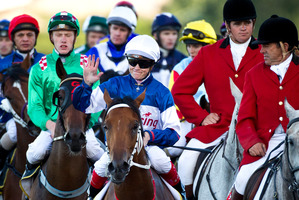 Yes, luck can play a big part in picking out yearlings. Ask Shaune Ritchie. And Stephen Marsh.
Two years ago Ritchie had the hots for a Bachelor Duke colt at the Karaka yearling sales. The colt, offered by The Oaks Stud, turned out to be Diamond Duke. Problem at the time was Marsh also wanted the colt.
"Stephen asked me how much money I had for the horse and I said quite a bit," said Ritchie at Karaka yesterday. "He said he had only $100,000, so he stepped aside and let me have him."
Diamond Duke suggested outstanding ability when he won brilliantly on debut at Ellerslie, but later he disappointed.
The Oaks Stud has a policy of farming out the horses it intends racing itself to the trainers who have bought its yearlings in the sale ring.
Because of the Diamond Duke purchase Ritchie got the first pick of a paddock of fillies.
"Zurella was a standout and I got her and Rick [Williams] threw in Artistic as a bonus. I ended up with an Oaks one-two result from buying that colt."
On the basis that one good turn deserves another, Marsh got his reward. At last year's Karaka sale, Marsh and Ritchie liked the same filly.
"We compared notes and this time I had only $100,000 and Stephen said he was prepared to go to $150,000.
"This time I stepped aside and Stephen got her for $90,000."
The filly was Ruud Awakening, winner of the Karaka Million at Ellerslie on Sunday.
With the Karaka Million win providing plenty of impetus, Marsh parted with $190,000 for a bay filly by Pins from Diamond Smile at Karaka yesterday.
Not to be outdone, Ritchie opened the wallet a little wider going to $210,000 for a filly by Street Cry from Australian mare Doduo, a daughter of Danehill.