After spirited duel with experienced buyers Irish trainer backed judgment.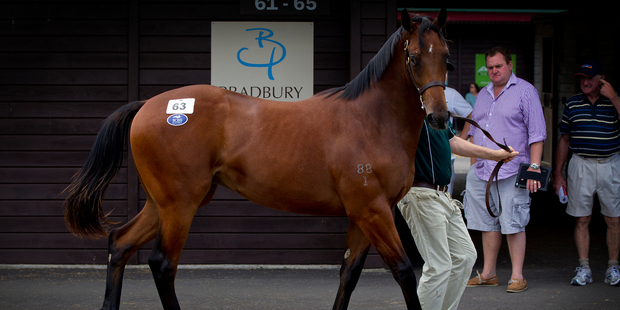 Most successful buyers at leading yearling sales have concealed contempt for underbidders.
Not Tom Magnier, who paid a resolute $1.975 million for the Fastnet Rock-Celebria colt at New Zealand Bloodstock's Karaka Yearling Sales yesterday.
Magnier was delighted his underbidder in the sale that outstripped last year's $1.7 million sale was Black Caviar's Victorian trainer Peter Moody.
"Peter's a great judge and so is David Ellis.
"I had two of the best horse judges around chasing me so it gave me confidence," said Magnier, son of Coolmore Stud principal John Magnier.
Tom Magnier had his father in Ireland at inhospitable hours on his cellphone during the bidding.
Magnier showed grit when he went to $1.975 million instead of $2 million to perhaps freeze Peter Moody out of business on the wrong foot in bidding.
For the sake of $25,000 he presented Moody with the opportunity to hit the $2 million threshold himself.
Why?
"You must always buy horses as cheaply as you can."
Well, yeah perhaps. That's tough thinking. Magnier wouldn't be drawn on whether this was the one horse Coolmore Stud was interested in this week.
"He was definitely one we were attracted to. He is a lovely individual and a great mover. We just need some luck now."
Traditionally luck crosses all boxes but it plays a diminishing role in the world's greatest stallion-making nursery. Magnier said plans at this stage were to send the colt to David Hayes in Australia.
He added that Coolmore's biggest recent purchase before this was the A$1 million it paid for a Fastnet Rock yearling in Australia.