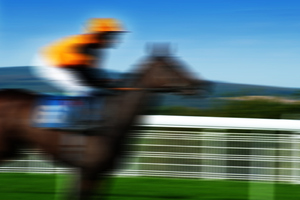 Brett Cusdin's phone has been ring-ing off the hook, but he is not ready to part with Franco Nattai just yet.
Cusdin, 30, of Christchurch, has the Courage Under Fire gelding all set for Motukarara tomorrow after the 4-year-old produced an eye-catching run for second at Addington on January 18.
The offers have been flooding in for the well-bred Franco Nattai, but Cusdin has an important milestone to reach before he contemplates parting ways with the pacer - his first training win.
"I've had quite a few people ringing up wanting to buy him - everyone's been pretty keen on him," Cusdin said.
"I've said I'm not selling him until I do that and then we'll just go from there."
Cusdin works Franco Nattai during his lunch break at his regular job as a stable hand at Mark Purdon's All Stars Stables in Rolleston and he has soaked up as much knowledge as he can from Purdon. "He's been the best to learn off," Cusdin said.
Cusdin found the trail easily with Franco Nattai at Addington last week but his hopes of his first training success unravelled when leader Ima Jaymar compounded badly, dragging Franco Nattai back behind him. Once Cusdin got Franco Nattai out into clear air, he was half a second quicker than the last 400m of 29 seconds set off the front.
His searing sprint hasn't dulled the horse this week.
"He looks fantastic at the moment," he said. "He's just a lovely horse to work with - he's nice and quiet and easy to drive."
It seems a matter of when rather than if Franco Nattai will give Cusdin his first win, but he still doesn't know if he will bid farewell to the horse after the win comes.
"I've seen the amount of horses at Mark's and I know how hard nice horses are to come by so it's been a bit of a hard decision thinking about it."
The main danger for Franco Nattai in race 12, the $7250 1-win mobile pace, will come from Itsa Seelster who is looking for his third straight win, and The Brigadier who has won twice from three starts.Otago Daily Times