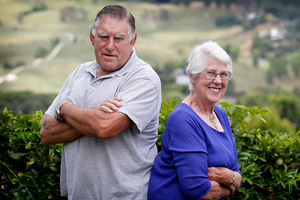 The battle lines have been drawn in the Meads house ahead of tomorrow's Karaka Million at Ellerslie.
And as he has so many times before, Sir Colin could come out a winner.
The rugby legend is a part-owner of the hot favourite Ruud Awakening for the $1 million race at the twilight meeting at Ellerslie.
But he might not get too much support from his wife, Lady Verna, as she is a co-owner of one of Ruud Awakening's rivals, Charlestown.
Remarkably, the two juvenile gallopers will start right next to each other in the 1200m dash for cash.
The Meads have dabbled in horse racing for years, owning and even breeding horses with moderate success.
"We love it; it's a bit of fun," says Lady Verna. "We both loved breeding horses and looking after the foals but this is something different all together. We have never had horses racing in something this big before."
In fact, the couple's first racehorse ownership experience ended in disaster.
"The first horse we owned broke a leg in training," admits Lady Verna.
Their luck soon improved, and they have had a number of minor winners over the years, from the 8 to 10 horses they have owned.
Now the richest race of the New Zealand season looms and Lady Verna admits there have been some fun jibes in the countdown.
"When all is said and done, we say that we own our shares together.
"But I'd still like my horse to win."
Ruud Awakening is the $2.40 favourite with the TAB and will be ridden by superstar jockey Craig Williams, in from Australia especially for the ride.
The filly has won three of her four starts in brilliant fashion, including at Ellerslie two weeks ago when she carried a far greater weight than she will tomorrow.
Charlestown, on the other hand, has won once and is rated a $21 hope, although his trainer, Lisa Latta, did train the winner of this race two years ago.
The Meads won't be the only big names on course as Ellerslie prepares to host one of its glamour nights of the year. Some of the mega rich from around Australia and Asia will attend, as the meeting doubles as the opening party for the Karaka yearling sales, which start on Monday.

Karaka Million
What: New Zealand's richest horse race - worth $1 million.
When: Tomorrow. Meeting starts at 5pm.
Where: Ellerslie Racecourse.
Who: Plenty of racing's rich elite and Auckland's party people.