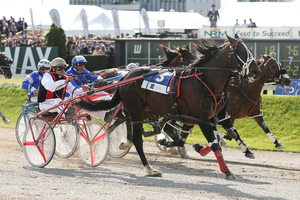 For most judges anything but a win by Terror To Love in today's $50,000 Northern Southland Cup will be a shock.
Most people, but not co-trainer Paul Court.
The two-time New Zealand Cup-winning stallion returns to racing off a 20m handicap in the group three event at Invercargill.
While that will take some making up over 2700m, he is aided by the fact that he has only eight opponents and only two of them - Franco Ledger and Artiface - are genuine open-class horses.
So Court has found the perfect comeback race for arguably New Zealand's best pacer and he should win.
"He should, but the tempo of the race will be the crucial thing," says Court.
"If they go really hard and he gets stuck back and can't make ground then it becomes tricky.
"But if he can get handy on the outer then, yeah, he probably should win.
"But we know how hard any race at this level is to win so we will wait until after the race before making a call on whether he did what he needed to do."
Terror To Love was awesome at the Ashburton trials last week, with Court clocking his last 800m in 53.4 seconds.
"I had another trainer standing alongside me and he got the same time, which is fast even for Ashburton.
"So he is well enough to win, even though he will get better with a few runs because we are aiming to peak him for the Interdoms on March 3."
Terror To Love is likely to start around $1.50 today but there will be plenty of support for local hero Franco Ledger.
He has won four at Ascot Park and is a very fast beginner from a stand so could get an early tactical advantage over Terror To Love.
But there appears to be a decent gap in sheer class between the pair so Franco Ledger would need plenty of luck to beat the favourite.
The 13-race programme sees The Fiery Ginga thrown in off a 30m handicap in race seven, which should see him record his 24th career win and seal a trip to Australia in coming months.