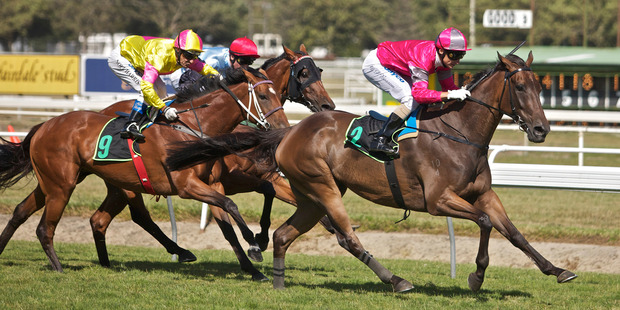 Good on co-chief stipendiary steward Ross Neal and his team for lining jockeys up after Saturday's farcical $55,000 Marton Cup.
Jockeys were told the ridiculously slow pace was unacceptable.
The stewards' report stated: "Following the running of the Marton Cup stewards addressed all riders with regard to the excessively slow pace exhibited in this particular race and several other races of recent times, where such occurrences have resulted in trailing runners over-racing and jockeys being placed in difficulties. All riders were reminded of their obligations with respect to the stewards' expectations when leading races."
Absolutely. We don't want to see staying races end up being sit-and-sprint affairs like they have been in Sydney for more than a decade.
But where are the guidelines? What are the stewards' expectations?
Okay, extremely broadly, it's to set a reasonable pace. But that's subjective.
On Saturday, Jonathan Riddell set a walking tempo on topweight Spiro until Opie Bosson came around and set up a bit better speed on Cassini before he too took the race back to a crawl.
The stewards' statement mentions "obligations with respect to stewards' expectation".
The only obligation jockeys have is to try to win the race for their mount's owner(s), trainer and those who have backed the horse.
And there is no doubt one trick is to set as slow a pace as possible to disadvantage the horses further back in the field.
The results of a huge percentage of races are tempo-related.
So there is a problem. Horror of horrors, if Riddell and Bosson go out at Trentham on Saturday and set a similar pace, what can stewards do about it?
Can they charge those responsible, and if so, with what rule? Perhaps it would require stewards themselves setting an upper-limit time for staying races on each raceday once the track has been raced on.
It's not an easy problem to solve.
Meanwhile, Ransomed became the Wellington Cup favourite with his win in the Marton Cup.
He looked inconvenienced by the slow pace but overcame that.
•Jason McLachlan achieved something his late father Bruce couldn't by winning the Magic Millions Guineas on Saturday with Saluter.
Bruce McLachlan won the Magic Millions Classic three times during his illustrious career but never trained a winner of the Guineas.
It was left to Jason to win the Guineas with Saluter and his first thoughts after the race were for his father, who died soon after Phelan Ready's Golden Slipper win in 2009.
"I hope Dad is watching because this is a race he always wanted to win so I've been able to do it for him," McLachlan said.
McLachlan was confident Saluter ($15) with Damian Browne on board would be competitive in the Guineas despite the presence of Sizzling, Driefontein and No Looking Back.
-additional reporting AAP