Courageous staff put their lives at risk to prevent huge loss of equine life as fire encircles property.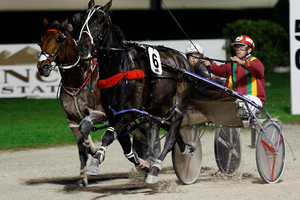 The bravery of his handlers may be all that saved Harness Jewels winner Franco Emirate from perishing in Thursday's fires in Canterbury.
The outstanding pacer was one of four horses that had to seek shelter in an aqua walking machine at the property of Brian Court as the fire bore down.
The quartet of horses couldn't be moved in time as the flames encircled Court's property near Prebbleton.
"If it wasn't for my staff, led by Annabel Tilson, this could have been horrific," Court told the Herald.
"They were very brave and put their lives at risk for the sake of the horses."
Court trains thoroughbreds but also uses his property to help standardbreds rehabilitate with an aqua walker, a machine which enables the horses to work in circles up to their waist in water.
"It is like a normal walking machine for horses but dug into the ground so they can walk around in about a metre of water to increase the resistance on their legs.
"But on Thursday the horses had to shelter there as the fire passed by."
Court was at the Magic Millions sales in Australia when the fires struck and he says his staff and neighbouring horsepeople helped to avert massive loss of equine life.
"We had people in paddocks rescuing horses that were only three or four metres from the treeline fences, which were on fire."
Court says 20 of the 24 horses were evacuated with great difficulty as police restricted the handlers' movements.
"Every time somebody left with a few horses the police were reluctant to let them back in because of the risk.
"But these are horsepeople and they were never going to leave the horses behind so they eventually wore the police down."
The fire raged on both sides of Court's property, destroying paddocks, fences and trees which shelter the property.
But the already dangerous situation became more precarious when Franco Emirate took fright and refused to be loaded onto a rescue transporter.
"We couldn't leave him behind so the staff took him and three other horses and walked them around in the water to keep them cool and safe."
Eventually the fire passed without getting to the main stabling area but any horses in the outlying paddocks could easily have been lost.
"We were fortunate but a lot of that comes down to the way Annabel handled the situation and the help of so many people.
"They had a real battle but they were willing to risk their lives for the horses."
Among the other well-known pacers on the property was last season's Miracle Mile contender Raglan, the winner of over $500,000.
Court says he has plenty of neighbours whose horses have had similar scares but heard no reports of horses dying.
"A lot of people worked hard and under amazing circumstances to save horses. We had three weanlings in a neighbouring paddock and I was sure they would be dead because our people couldn't get to them.
"But somebody got to their gate and opened it so they could run free and we have got them back safe and sound now."

Brave handlers
• Several horsepeople risked their lives to save horses encircled by Thursday's fires in Canterbury.
• Among the horses were star pacers Franco Emirate and Raglan.
• Franco Emirate was sheltered in an aqua walker as the fire closed in.
• Trainer Brian Court says the fire came within metres of some of his horses.