Jockey's early concerns cast aside as Miss Pelear shows stamina to win Rich Hill Mile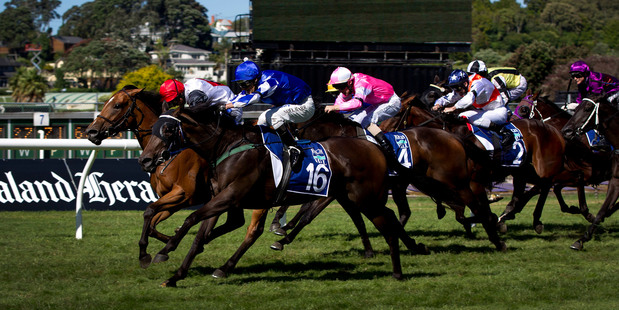 Noel Harris admitted he swore to himself when he found himself five wide early on eventual winner Miss Pelear in yesterday's $100,000 Rich Hill Mile.
It ended up winning him the race.
"I was wide but I eventually ended up with cover behind Viadana and as the race unfolded it was the place to be."
The wide position with cover meant Miss Pelear and Harris were in the right position out in the centre of the track at the 400m to issue a challenge that required a long, searching finish.
Meanwhile, joint favourite Full Of Spirit had burst to what looked to everyone a winning break at the 120m, but Miss Pelear finished so powerfully she picked up the other mare in the last two strides.
And when the race time was posted - 1:33.64 - it gave the reason for back runners being advantaged.
The field had only just gone over the line when Roger James leaped into the press room.
"Did I get beaten (with Full Of Spirit)?"
Unfortunately, yes.
"Damn, I thought this was my turn this year."
The 3.5kg weight differential in Miss Pelear's favour definitely swung the result.
"That's a lot of weight (3.5kg) for mares. She was very unlucky at Pukekohe last start and she was always going to win a race like this," said co-trainer Keith Hawtin.
Son Brendon and his father had been confident of Miss Pelear going close to winning, despite the long tote price.
Noel Harris, from being nervous from his wide berth early, was confident on the home turn despite being in the second half of the field.
"I had a lot of horse, I was saying, 'Whoa, whoa."'
When it became go, go the sprint was unable to be denied.
It looked a relatively rough race and Miss Pelear returned with the racing plate on her off-side foot the only one left.
She also lost part of her near-side hind hoof.
"She's going out for a spell now, so the hoof will be no problem."