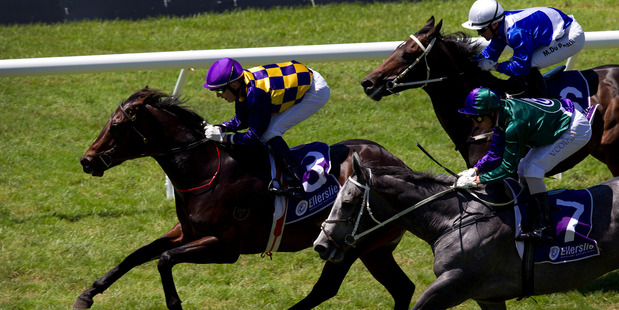 Top jockey Jason Waddell was thinking four weeks ahead after winning yesterday's $70,000 Barneswood Farm Eclipse Stakes at Ellerslie.
Waddell showed up his own class as well as Gobi Ranger's in a dominant win that gave no other runner any chance.
The Cambridge horseman "walked" the juvenile field to the home turn. He and Gobi Ranger screamed in from the 600m in 34.30, shutting down the opposition.
"That's not the 1200m race I thought I'd be winning here, but I'll take it," said Waddell.
Waddell was referring to the $1 million Karaka Million at Ellerslie on January 27 and it's unlikely he'll be on Gobi Ranger.
He has a prior engagement for classy filly Ruud Awakening.
"She has to get through another race here in two weeks, but at the moment she's coming up very well."
Trainer Danica Guy has a good replacement for Gobi Ranger - James McDonald.
"When I took this bloke to the barrier trials James rode him and said: 'This bloke is the real deal, he's got gears. There were five gears he didn't use'.
"He's my Millions ride," said McDonald.
"I hope he's still thinking the same," said Danica Guy.
One of the runs of the race came from previously unbeaten Fantastic Honour, who settled last and, despite the quick late tempo, rushed home for a magnificent second.
Eastern Dragon finished well for a good third.
The hot favourite, Catalonia, was forced out three wide from the 1000m to the home bend, but rider Matt Cameron was more inclined to use the track conditions as an excuse.
"He seemed reluctant to hit out on the firm conditions. He didn't let down."
When she won Race 2 Little Wonder set the tone for a lot of the races to follow on yesterday's Ellerslie card.
Sam Spratt walked the field in the Stella Artois to the home turn.
By the time she let the colt go, those behind had no chance to outsprint him down the home straight.
Little Wonder ran around a little in the closing stakes, but the others were always running for second.
One of those affected was the favourite, Moneytree, who had a lovely passage three back, but couldn't sprint quickly enough in the closing stages and finished third.
Moneytree was coming back from 1600m to 1400m and looks as though he now needs more distance.