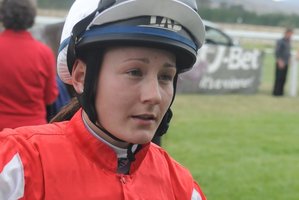 Organisers of Sunday's Kurow races and jockeys have been left devastated by the death of jockey Ashlee Mundy.
Gallop South general manager Malcolm Little said he knew Mundy "very, very well" and was "absolutely devastated" by her death yesterday after a fall on Sunday.
He had known her since she started as an apprentice, and had involvement with horses that Mundy rode.
"She is a very good wee friend. It's absolutely devastating. It was a really nice day and it put an absolute dampener on the day for a lot of us."
He believed most of the spectators had been unaware of the seriousness of the fall, but he and Mundy's fellow jockeys realised it was a major spill.
"It was quite traumatic really."
The jockeys would also be devastated at the news of her death, he said.
"Some of them may not be able to ride. It will affect them."
Stipendiary steward Mark Davidson said he would speak collectively to all jockeys taking part in the meeting at Waikouaiti today.
Jockeys would be allowed to pull out of the meeting "with no consequences", he said.
"We don't want anyone out there riding that's not concentrating on what they are doing."
However, he said he was sure Mundy would have wanted the meeting to go ahead and at this stage the club would race.
Little said the cause of the accident would be determined in due course, but it was "possible" it could have been caused by horses clipping heels.
He said the track conditions at Kurow on the day had been safe.
"There is absolutely nothing to do with the track. The track is perfect. It's an incident in the race."
New Zealand Thoroughbred Racing chief executive Greg Purcell said the industry was in shock.
"All our thoughts are with Ashlee's family at this terrible time. This is a very sad day for them and for the wider racing community in New Zealand."
Mundy started her apprenticeship with Michael Pitman at Riccarton in March 2004, and rode her first winner the same year, on August 29, on Starkay at Oamaru.
She really hit her straps in the 2006-07 season, riding 45 winners, before topping that with her best season of 52 winners in 2008-09.
She rode a total of 232 winners in New Zealand, including four black type races. She has been riding in Australia for the past few years and had ridden 43 winners in Queensland.
Mundy's family live in Westport and she had returned for a holiday and the Christmas-New Year carnival.
Since arriving back in New Zealand shortly before Christmas, she was dislodged by a horse at Ashburton on December 21 and stood down from the rest of her rides, before getting clearance for the Tapanui meeting at Gore and gaining two second placings.
She had six rides booked at Wingatui on Boxing Day and picked up a third, before regaining her winning form in New Zealand by guiding Fintorro to victory at Timaru on Friday.