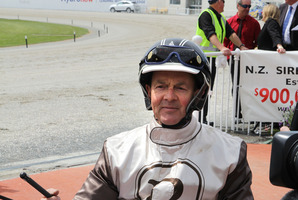 Champion trainer Mark Purdon has labelled I Can Doosit's shock defeat on Monday one of his greatest ever surprises in racing.
But he is confident the superstar squaregaiter will be back to his best at Alexandra Park next Monday.
I Can Doosit stunned Purdon and harness racing fans by switching into a pace at the start of the $40,000 Flying Mile at Cambridge on Monday.
The $1.20 favourite was shooting for his 19th win on end but Purdon was forced to pull him to a virtual standstill after he bizarrely changed gaits in the final 30m of the score-up of Monday's sprint.
He settled 30m behind the second last horse and staged a remarkable recovery to finish fourth after never really looking to stride out comfortably.
His effort was all the more remarkable as his own stablemate Escapee set a searing pace that saw eventual winner Stig break the national mile record by clocking 1:55.2.
Purdon said the performance left him stunned. "He has never given any indication of doing anything like that," he told the Herald.
"He will occasionally pace for a few strides when he starts jogging at home but he has never switched into a pace at full speed and definitely not in a race or workout.
"With his all-trotting breeding it makes it even stranger."
Purdon said I Can Doosit didn't feel great in the warm up and had he not restrained him in the final stages of the score-up he would have rolled into a gallop.
Purdon said a vet examination after the race suggested I Can Doosit was jarred up, which will be worked on this week.
That should have him back to his best for the $80,000 National Trot on a stellar day of racing at Alexandra Park next Monday.
"We can work on it and I think he will be fine, but it was a very strange race."
There were two consolations for Purdon - the brave performance of Escapee in finishing second and the massive performance I Can Doosit put up after his early problems.
"It just goes to show you what a great horse he is, to trot back into the race at that speed after that."
That still wouldn't have greatly amused the punter who put $14,000 on at $1.25 fixed odds.
I Can Doosit's loss will at least open a window of hope for the trainers of the other superstars of trotting, showing the great horse is not invincible in the $1 million worth of major trotting races that lie ahead this season.
Almost overlooked in the I Can Doosit carnage was the performance of Stig to break the record, capping him own incredible comeback.
The 10-year-old was retired three years ago and spent two years in the wilderness before trainer Paul Nairn was convinced to put him back into work.
That he could trot 1:55.2 at a stage of his career when his old, battle-scarred legs don't possess the speed they once did reminds us what a special animal he is.
It also increases his chances of finally making it to Australia for the rich races coming up there as he is the only trotter who has a motor to match I Can Doosit.