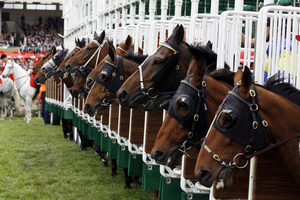 As he plots the summer comeback of his best horse Whitefriars, trainer Rick Worthington is tackling his own health battle.
Whitefriars, who has undergone two throat operations, will make his long awaited return in either Saturday's Razor Sharp Handicap or the Carrington Stakes on New Year's Day.
Should the sprinter return to the form which had him winning the Salinger Stakes and Australia Stakes a couple of years ago, it will be a triumph for Worthington.
But the trainer is also focused on a personal triumph after two recent operations for intermediate-stage cancerous melanoma.
Worthington had surgery to remove some lymph glands around his neck and upper back about six weeks ago but had to have another operation two weeks ago.
"The first operation wasn't successful so two weeks ago we had round two," Worthington said.
The trainer has a positive outlook and says he's determined to "get on with it".
Whitefriars has been taken along slowly and is closing in on his first start for almost two years.
He has not raced since winning the group two Australia Stakes in January, 2011.
Whitefriars contracted pneumonia after that win and since then has also had two separate throat operations.
Worthington said Whitefriars would be an acceptor for the listed Razor Sharp (1200m) but a final decision on whether he runs or is saved for the Carrington (1100m) won't be made until later in the week.
"I don't want to lose the plot in the last week by making a rash decision and then the horse paying the price because of it," the trainer said.
"It's been a very long process getting him back. But as far as the horse is concerned, I'm very happy with him."
- AAP