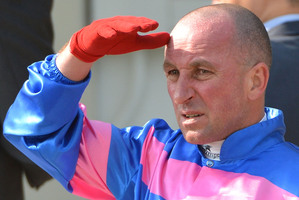 A typically confident front-running ride by Jim Cassidy on Cantonese at Rosehill on Saturday has given trainer Bjorn Baker his first solo stakes win in the Christmas Cup.
An experienced group one winner when in partnership with his New Zealand-based father Murray, Baker branched out on his own in Sydney at the beginning of last season.
He bought Cantonese from Gerry Harvey just over three months ago and in nine starts for Baker, the gelding has won six times. The Christmas Cup was his first attempt at 2400m and he did as punters who backed him to $3.40 favouritism expected, widening the margin on his rivals in the run to the line.
Iggi Pop ($3.90) led the chase behind him but was six lengths in arrears with Fiumicino ($5) another two lengths third.
The Summer Cup on Boxing Day and the group one Auckland Cup are options being considered for Cantonese. "We'll look at the options," Baker said.
"That last 100m was a bit like Lion Tamer. It's my first stakes winner in my own right and it's very important to me." Lion Tamer won the 2010 Victoria Derby for Baker and his father.
Cantonese covered the 2400m in a slick 2:28.79 which Cassidy said added merit to his effort.
"He high-balled the whole way and proved he can run time which is a good sign," he said.
"The horse is a credit to Bjorn."
Baker deflected some of that credit to apprentice Jenny Duggan who was replaced by Cassidy for the feature.
Duggan had won five races on Cantonese but Baker decided a senior rider was needed for the cup.
"I feel for Jenny," he said.
"She has done a great job on him but because she couldn't use her claim we decided to go with a senior jockey and Jimmy is one of the greats."
Duggan watched on from the sidelines.
"It was mixed emotions for me," she said. "Of course I was pleased to see him win but also a bit sad.But my time will come."
Also in Sydney, he's burdened with a name that suggests he may be less than serious, but Galah heads a determined three-pronged attack from Darley on the Villiers Stakes.
The same trio - Galah, Quidnunc and Classics - which contested the Festival Stakes will represent Sheikh Mohammed's operation in Sydney's summer showpiece at Warwick Farm on Saturday. The 1600m group two feature will be without Festival Stakes winner Malavio, who was injured during the race, but trainer Peter Snowden says his runners have come through the race well.
Galah finished third, Quidnunc fourth and Classics 11th, less than three lengths from the winner.
"They have all done well since and will be there in the Villiers," Snowden said. Galah is a 4-year-old entire by Redoute's Choice out of Oaks winner Rinky Dink but hasn't won since the Carbine Stakes at Flemington in October last year.
The Ron Quinton-trained Monton will be out to defend his title after finishing second to Malavio in the Festival in which the pair took control early.
- AAP