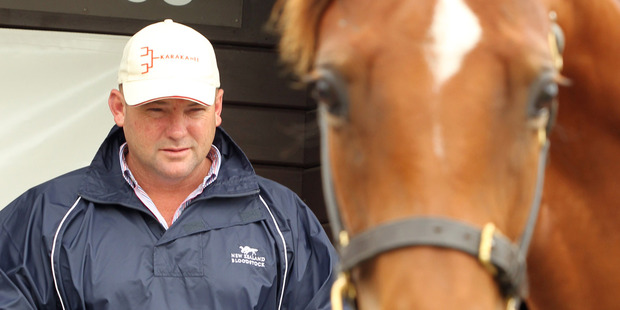 Top mare Black Caviar's workload will be stepped up over the next five weeks as the champion prepares for a return to the racetrack.
The mare is at Peter Clarke's property in country Victoria, her home away from home throughout her career.
Trainer Peter Moody said he expected Black Caviar to return to his Caulfield stable in January to prepare for the group one Lightning Stakes in February which now bears her name.
However, he also said he would not hesitate to retire her if he felt she did not come up to expectations.
"She's full bore from tomorrow towards the Lightning," Moody told Melbourne's radio RSN yesterday.
"We're very happy with her but obviously extremely conscious of the situation we are in with her that we don't want to see her beaten now."
Black Caviar hasn't raced since the Diamond Jubilee Stakes at Royal Ascot in June, when she came the closest yet to being beaten in 22 starts.
She was subsequently found to have muscle tears in her hindquarters which went some way to explaining why her usual acceleration was missing.
Her 12 group one wins include the past two runnings of the Lightning over the 1000m straight course at Flemington.
Meanwhile, further west, South Australian gelding Outlandish Lad is set for a string of road trips over the summer after his victory at Caulfield on Saturday.
The win, in the CFV Nightingales Plate (1100m), has forced trainer Dennis O'Leary to look to Melbourne for future assignments.
O'Leary has not yet had time to select the targets but is resigned to the fact that the 7-year-old has outgrown the coming races in Adelaide.
"I haven't really picked one out but it sort of forces us to come over here because there aren't really any higher rated big races in South Australia," O'Leary said.
"With his level of rating up, he's going to get 61 or 62kg back home and we came over here and only got 60kg and the 3kg claim for Damien Thornton got us in with a chance."
O'Leary said the group three Standish Handicap (1200m) at Flemington on New Year's Day was a possible target.
"We thought there would be higher-quality horses than him with higher ratings which might compress the weights a little bit."
-AAP