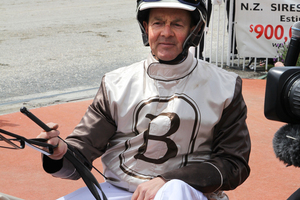 The rescheduling of the Franklin Cup looks to have fallen perfectly for star 4-year-old Smolda.
But trainer Mark Purdon is warning punters not to fall for backing the excitement machine to win March's Interdominion Final.
Smolda returned with an effortless intermediate grade win at Addington last Friday which suggests he is ready to resume where he left off last season - rated the next big thing in New Zealand pacing.
With a NSW Derby to his name and a 1:52.1 national record mile at the Jewels, Smolda could be the best pacer in Purdon's care.
And he appears to have been handed a gift by the Franklin Cup, which was to have been this Friday, being put back to December 7 and changed from 3200m to 2700m.
"Originally we were keen on it but he had a small setback a month ago so we decided to bypass it because it was too close to his first start back," said Purdon.
"But now it has gone back till December 7 it is on the agenda again."
Purdon says while Smolda has an open-class motor he will predominantly be kept to age group racing this season, at least at the highest level, and will not be aimed at the Interdominions in Sydney.
"The Chariots of Fire is that same day and that is far more likely for him," said Purdon.
Smolda will be one of 12 to 15 horses who head north with Purdon next week, with most staying in the north over the summer. Some, like champion trotter I Can Doosit, will race at Alexandra Park next month and then eventually head to Australia. That is likely to also be the plan for Highview Tommy, who will be aimed at the Ballarat Cup he won last season and then the Hunter Cup-Interdominion double.
Others coming north include trotters Escapee and Luby Ann, mares Southwind Arden and Tatijana Bromac, who could be joined in the feature mares' races by O Baby and Minnie Moose.
Twist And Twirl has only started work again and will not be coming north but maiden pacer Royal Mach will, along with classy fillies Adore Me and Rozelski. Major Mark will contest open-class races at the Christmas carnival and will be nominated for the Interdominions.
The Australian assault will start next month with Sushi Sushi aimed at the Cranbourne and Victoria Cups, with Natalie Rasmussen likely to take him across the Tasman. But no decision has yet been made on the future of Auckland Reactor, who looks better placed in Australia after his standing-start woes this season.