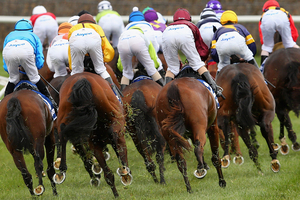 Betting on the Melbourne Cup with the New Zealand TAB eclipsed $8.62 million, meaning the sports betting agency had turnover of more than $20 million on a single day for the first time in its 60-year history.
The amount punted on the race was up 8.5 per cent overall on last year, and up 10 per cent in Auckland metro and 13 per cent in Auckland rural. Southland saw the biggest jump, with a 20 per cent increase in turnover, followed by Northland (16 per cent), Canterbury (14), Auckland rural (13) and Taranaki (11).
Manawatu was the only region to witness a fall in turnover, down 4 per cent.
TAB spokesman John Mitchell said betting on the Melbourne Cup could signal that New Zealanders saw a brighter future for the country after the difficulties of the global financial crisis.
"Usually we find that Melbourne Cup day is a proxy for how the country is feeling," Mitchell said.
"It's an odd indicator of confidence both nationally and regionally.
"If anything, the country is feeling pretty happy with life in general at the moment."
Two punters will certainly be feeling pretty good. A Wellington father and daughter correctly picked the first four runners in the Melbourne Cup to collect close to $50,000 from a $5 investment.
- APNZ