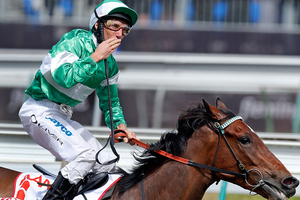 Damien Oliver will still ride one of the favourites in the Melbourne Cup, despite reports he's admitted to betting on a rival horse in a race in 2010.
Oliver will ride joint favourite and 2010 champion Americain in the race that stops two nations at Flemington this evening.
But reports across the Tasman claim Oliver has admitted to putting $10,000 on a horse called Miss Octopussy while on the mount of another.
Miss Octopussy won the race.
It's overshadowed the buildup to the Melbourne Cup but champion trainer Bart Cummings is unfazed as he goes for 13 wins in the famous race.
"Can't do much about it, I'm not running the show, I'm only here to try and win it."
Bart Cummings has Sanagas and Precedence to cheer on in today's race.