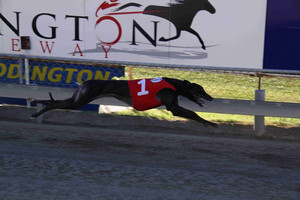 New Zealand's superstar greyhound Little Mother received the code's ultimate accolade when the champion chaser was crowned as the 2011-12 NZ Greyhound of the Year in Wanganui on Saturday night.
Little Mother enjoyed a sublime season, the highlight being her convincing New Zealand Cup victory.
Her 37 races during the season yielded 26 wins for $135,540.
She was retired at the end of the season with a New Zealand race record of 85 career wins and $377,751 in stake earnings.
"Emma [kennel name] is a once-in-a-life greyhound to own. She was a thoroughly professional athlete right throughout her racing career.
"There's no way she could have achieved those results without the outstanding work that Brendon [Cole] and Lisa [Ahern] did with her throughout her career," said Little Mother's proud owner, Gordon Sciberras.
Trainer John McInerney delivered his normal lively speech when accepting his 14th national Trainers' Premiership trophy. "Team" McInerney smashed all training records after producing the winners of 803 races last season.