Methven success gives top trainer a possible full hand for Addington.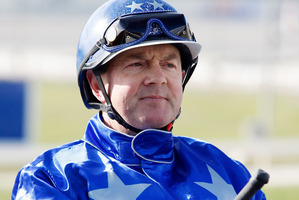 Stunning Methven Cup winner Fly Like An Eagle will be looking for a new driver for next month's New Zealand Cup.
The 4-year-old belied his reputation as a speed machine to overcome an early gallop and come from near last to win the $35,000 Cup on the huge Methven grass track yesterday.
The win will almost certainly see him jump from his previous ranking of 18 into the New Zealand Cup field, with the TAB slashing his odds from $31 to $13 for the November 13 classic.
Although trainer-driver Mark Purdon was impressed by the victory, he will be jumping off Fly Like An Eagle for the Cup as he is committed to Auckland Reactor.
Purdon's partner Natalie Rasmussen is booked to drive Sushi Sushi, who was an adequate fourth yesterday, in the New Zealand Cup while the stable's other main driver, Blair Orange, partners last season's Cup placegetter Highview Tommy.
And even Purdon's former training partner Grant Payne has a Cup drive in Sleepy Tripp, meaning an outside driver will have to be found for Fly Like An Eagle.
The leading contender a few weeks ago would have been Dexter Dunn, but he has been snapped up to partner Stunin Cullen after Anthony Butt's decision to stick with Mah Sish.
And with Tony Herlihy on Gold Ace, Jim Curtin on Franco Emirate and Ricky May on Cup favourite Terror To Love, all Purdon's other regular catch drivers are accounted for.
Purdon wasn't really confident of Fly Like An Eagle being a definite New Zealand Cup contender until yesterday and the final decision on a start in the great race probably won't be made until after the Kaikoura Cup on October 29.
But it is already shaping as an amazing accomplishment, with the champion trainer likely to have five Cup starters, with Major Mark now his only entry who could miss the cut.
While Fly Like An Eagle's victory was comprehensive, the jury will still be out on Sushi Sushi's New Zealand Cup chances.
He settled well back from his 30m handicap yesterday but got a nice drag into the race and looked a winning chance at the 400m mark.
But he was clearly outsprinted by Fly Like An Eagle and although he should improve, there still have to be some doubts over his toughness in the absolute best races.
While Fly Like An Eagle burst into NZ Cup contention, three other big names suffered setbacks of varying degrees over the weekend.
The first was Auckland Cup winner Sir Lincoln, who was scratched from his lead-up race at Alexandra Park last Friday with a virus and a hoof abscess.
The latter has developed to the stage where trainer Ray Green has had to scrap plans to send Sir Lincoln to Addington for the star-studded Canterbury Classic this Friday.
"He will need some work to dig the abscess out so his next aim will be the Flying Stakes at Ashburton," said Green. "If he makes it there, and I think he will, then we are still on target for the Cup."
Things are not so positive for Zenola Seelster, who missed yesterday's Methven race after his plane from Auckland to Christchurch was cancelled yesterday morning.
He badly needs rankings points and yesterday looked the perfect race for him so trainer Geoff Small has been left disappointed and scratching his head as to his options.
And well-backed Victorian raider Caribbean Blaster was well beaten in the Melton Plate in Melbourne on Friday night, suggesting his $9 quote in NZ Cup markets is well short of the mark.
A decision on his campaign will be made after the Kilmore Cup in three weeks'.