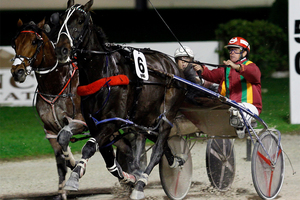 If Franco Emirate is ever going to get a standing start right again it should be at Addington tonight.
But if he does cost punters a fortune again with his tardy manners, he will almost certainly cost himself a New Zealand Cup tilt for the second year on end.
The giant pacer, a two-time group one winner, mysteriously lost his ability to step from behind the tapes last season, after having won three standing-start races earlier in his career.
So bad did his standing start temper tantrums become that trainer-driver Jim Curtin pulled him out of last year's New Zealand Cup, which worked out well as Curtin eventually drove Terror To Love to win the feature.
However, he believes Franco Emirate is in a better mental space now when behind the tapes than he was last year.
"He has been stepping away a lot more often at home than he previously did," said Curtin.
"I took him to the workouts at Motukarara two weeks ago and he stepped safely and then I took him back last week for two practice stands only and he was fine.
"So I am relatively confident he will handle it this week. And if he doesn't then we are in trouble looking toward the cup."
The nine-horse field for tonight's $25,000 Maurice Holmes Vase helps as Franco Emirate shouldn't have to bend his huge frame around too many rivals early and after pacing his last 800m in 55 seconds at the Motukarara trials he could even surprise with a fresh-up win.
"I think he is forward enough but as we all know there is a difference between trials fitness and race fitness.
"But I'll worry about that after the start."
What is slightly more worrying for punters investing on him tonight are the form swings he returned last season.
After two booming cup week performances, Franco Emirate seemed to lose his way on a disastrous Australian trip and was up and down in Auckland and Easter Cup campaigns.
If he produced his best tonight he could win but punters would want $5 to be backing him seriously because of his dual concerns.
Favouritism deserves to sit with Stunin Cullen, even though he was a costly failure fresh-up last start.
He will improve a lot with that outing and is ideally suited to tonight's small field so is backable around the $2.50 mark, although that may not eventuate in the fixed odds markets.
Mach Banner announced himself as a genuine open-class player when beating Stunin Cullen last start and could win again without surprising. And then there are the newcomers in Mister Presley, Franco Ledger, Ohoka Texas and Pure Power.
All have looked cups' contenders coming through the grades but Franco Ledger may be the best of the quartet tonight after a sub 3:0 post-to-post trials win over 2400m last week.
Pure Power returns to his favoured left-handed style of racing but hung outwards in the straight when third in a trial at Addington on Monday and will need to get his head right if he is going to be a factor.
In tonight's feature trot, The Fiery Ginga is thrown in under the special handicapping conditions, being a 20-win horse giving away 10m start to moderate seven-win trotters.
High-class 4-year-olds Beach Bunny and Orl Black continue their rivalry in race two, with Beach Bunny having the advantage at the draws.