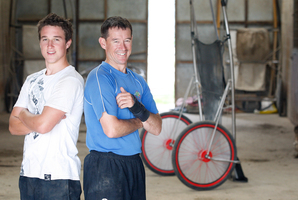 Racing legend Peter Wolfenden was the supreme winner at the Alabar North Island harness racing awards on Saturday night.
But it was the father-and-son team of David and Zac Butcher who stole the show.
The biggest evening on the northern harness racing social calendar attracted nearly 350 guests and after a night of 20 racing and breeding awards, it was Wolfenden who was given the ultimate compliment.
He joined the distinguished list of horsemen to have won the Alabar Outstanding Contribution to Harness Racing trophy.
Wolfenden could not be there to receive the award for his amazing training and driving dating back to the greatest of them all, Cardigan Bay.
His son Glen accepted on his behalf.
"Dad will get a real thrill out of this," he told the audience.
While Wolfenden was the supreme winner, the most touching moment of the night came when young driving star Zac Butcher was given the Racing Achievement award.
Butcher credited his father, champion driver David, for so much of his success so David was invited on stage to share the moment with his son.
It was then David was presented with an envelope from Harness Racing New Zealand confirming he would represent New Zealand at the World Drivers Championships in France next year.
The announcement left both Butchers stunned before David summed up the moment by yelling out to his wife in the crowd, "we are going to Europe, baby".
The two premier equine awards went to I Can Doosit (trotter) and Sir Lincoln, who won the pacer of the year.
Breckon Bloodstock continued on from their winning ways at the New Zealand awards a month ago by claiming three awards, with I Can Doosit joined by Twist And Twirl and deceased broodmare Sheezadoosie among the winners.
The winners were:
Groom of the Year: Joe Moka. Amateur driver: Jeff Darby. Licence to train/owner trainer: Rob Lawson. Junior driver: Zac Butcher. 2-y-o male pacer: Five Card Draw. 2-y-o filly: La Norvic De Milo.; 2-y-o trotter: Prime Power. 3-y-o trotter: Cyclone U Bolt.
3-y-o male pacer: Ideal Scott. 3-y-o pacing filly: Twist And Twirl. Owners: Lincoln Farms. Filly/mare: O Baby. Breeders: Breckon Bloodstock Ltd. Driver: Todd MacFarlane. Trainer: Barry Purdon. Broodmare: Sheezadoosie. Stallion: Bettors Delight. Trotter: I Can Doosit. Pacer: Sir Lincoln. Racing Achievement: Zac Butcher.
Outstanding contribution: Peter Wolfenden.