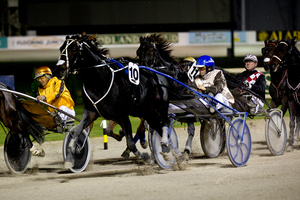 Twice in the space of 24 hours this weekend Braeden Whitelock will be hoping a late season surge leads to glory.
The first time will be when four of Whitelock's sons line up for the Crusaders against the Chiefs in Hamilton tomorrow night, the proud father hoping to see his sons progress to the Super Rugby a week later.
But on Saturday night Whitelock's focus will turn to another late season revival, one he hopes will carry his pacing filly O Baby to glory at the national Harness Racing Awards dinner in Christchurch.
The glamour night of the harness racing year will see plenty of hot favourites crowned, with horses like I Can Doosit, Terror To Love, Five Card Draw and Escapee dominating various categories.
But there looks certain to be some unusually close voting this season, with honours in many age groups shared as the longer feature-race season makes staying on top all year harder than it used to be.
And nowhere was that more apparent than in the 3-year-old pacing filly ranks, which is one of the most important awards because of its impact on future broodmare values.
Had votes in this category been cast four months ago Twist And Twirl would have been a unanimous winner, coming off the back of her Sires' Stakes win and a national record victory in the Northern Oaks.
About that time Whitelock's little filly O Baby was struggling, luckless and all but winless for the season.
But then something clicked, bad luck became good and she was brilliant winning the Nevele R Fillies Final, then bolted away with her Harness Jewels division.
She added the Queensland Oaks two weeks ago, albeit after voting for Saturday's awards had closed.
Whether her late season surge has been enough will not be known until Saturday night but the filly of the year title looks certain to have gone down to the line.
Twist And Twirl's owners Ken and Karen Breckon look set for a huge night regardless, as I Can Doosit should win trotter, aged trotter and Horse of the Year.
His Interdominion defence was tradesmanlike but he turned into a monster when he returned home, with his Anzac Cup and Rowe Cup performances those of a truly great horse.
His performances overshadowed the open class pacers, who are usually the pin-up boys of racing.
However, Terror To Love must still be favourite for the Pacer of the Year title.
He won our most important race, the New Zealand Cup, ran second in the Auckland Cup and won on Harness Jewels days, which being the last major meeting of the season always seems to count for bonus points with voters.
The battle for aged pacer of the year will be interesting, with Sir Lincoln outstanding before and after winning the Auckland Cup and Auckland Reactor returning to his best, with his Flying Stakes win one of the statements of the season.
Both are stallions so the award will mean far more than mere certificates and handshakes. Another of the most important yet closest votes of the night could come in the aged mare of the year section, where the domination of 4-year-olds Carabella and Bettor Cover Lover in the group one races has left some moderate older mares fighting for the title.
And just how much credence voters place on the Australasian Breeders Crown, which has become one of the world's great harness racing days, could be demonstrated by the voting for 4-year-old trotter.
No trotter has stood out in that division but the late Paramount Geegee won one of the two big trots and also won the ABC 3-year-old trot last August, which is supposed to count toward this year's 4-year-old award.
That may not happen but it would be a poignant moment after he died suddenly in late May.
Saturday night will also sees awards for trainer, driver, owners, breeders, stallion and broodmare of the year.