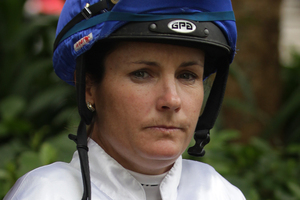 What a difference a year makes.
This time last year James McDonald was racing clear towards his record-breaking 207 premiership total, a stunning 62 clear of Lisa Allpress.
Right now we have Allpress and Matt Cameron locked together on 148 in a do-or-die premiership battle.
Each got a win on Saturday, Cameron winning the juvenile race at Te Awamutu on the John Sargent-trained Snow Line, and Allpress sneaking to a half-head for Mark Oulaghan on Rising Tide in the main handicap.
It seems very close to the end of the season, yet starting with Oamaru today there are 14 meetings Cameron and Allpress can ride at and both have indicated that barring suspensions they will be there.
Cameron has had 1064 rides for the season so far and Allpress 977.
Remarkably, their winning totals are almost identical - $2,118,090 for Cameron and $2,123,817 for Allpress.
Cameron has seven rides at Oamaru today and Allpress six. Cameron rode Global Partner and Champagne Eva to win at Oamaru on June 22. He has the mount on Global Partner in race 7 today. He also rides stablemate Chief's Daughter (race 6), which he rode to win at Washdyke on June 15.
Both horses are trained by John Sargent, the leading trainer this season with 103 wins. The Sargent-trained Pauanui, a rival for Chief's Daughter and last start winner at Washdyke, is the mount of Allpress.
James McDonald was permitted to ride at Hong Kong's Sha Tin meeting last night when his requested urine sample taken on Thursday proved to be clear.
The Hong Kong Jockey Club has yet to set a date for the hearing pertaining to McDonald returning a positive to two banned diuretics.
Those were detected in a urine sample taken from the champion New Zealand jockey at Sha Tin last Sunday.
Good to see a return to winning form by local trainer Richard Otto, who produced a double with Ourforeignminister and Aymon.
Otto has done a marvellous job getting Ourforeignminister through his share of problems.
Big day also for Jason Jago and trainer John Bell. The pair got Hong Kong first-upper Time Legend to a clear-cut win and took out the last with De'Colletage.