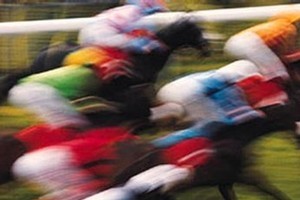 Three days in a paddock have helped Roi D'Jeu recover from his recent Rosehill heroics but trainer Craig Ritchie is concerned the stayer may still not be sharp enough to contest the Caloundra Cup.
Ritchie on Monday rated Roi D'Jeu only a 50:50 chance of making the trip from Sydney to the Sunshine Coast for the A$200,000 listed race on Saturday.
Roi D'Jeu, one of 21 nominations for the Caloundra Cup (2400m), has pleased Ritchie since he slogged it out with Adroitly over 3200m in the Stayers' Cup at Rosehill.
He came off second best but earned high praise for his bravery after a daring Brenton Avdulla ride in the marathon, run on a waterlogged track.
"Mentally and physically he has come through the race without a problem," Ritchie said.
"I'm not kidding myself and saying the race didn't take the zip out of him but he has recovered really well.
"I was able to give him a few nights in a paddock about 30 minutes from my stable and it wasn't long before he was bucking and kicking again."
But Ritchie says he needs to weigh up Queensland weather forecasts and the strength of Saturday's field before making a definite decision on a Cup start.
"Twenty-four hundred metres, to be fair, is his best trip but I want to see how the track is and what the field is like before I make up my mind," he said. "The track doesn't have to be too wet, just as long as it isn't firm."
Mike Moroney's Ipswich Cup winner Shenzhou Steeds heads Caloundra Cup nominations, along with Tattersall's Cup placegetters Booming and Warrior Within and last year's winner Spechenka.
Further south, for two years the mystery of stakes winner Brilliant Light's loss of form has frustrated trainer Kerry Parker and he is hoping for answers at Rosehill on Saturday.
Brilliant Light will run in the listed Civic Stakes (1400m) and while Parker thinks a win is a pipe dream, he wants to see the 6-year-old show the enthusiasm that has been missing since the autumn of 2010 when he announced himself as an A grade middle-distance performer.
After an indifferent two-start campaign in the spring, Brilliant Light was found to have an infection in a hoof which had been there for an indeterminate time. "Whether that was the cause of his long time out of form I don't know," said Parker.
- AAP