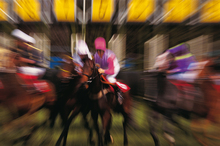 He has always been a special horse but he hates Addington for some reason, which is why he misbehaves there sometimes.Sam SmolenskiSam Smolenski has had about as much baby excitement as he can handle in one week.
On Saturday the Canterbury horseman landed his second Harness Jewels win behind Royal Aspirations, who took a scarcely believable two full seconds off the previous national mile record for a juvenile.
But even though Smolenski is Royal Aspirations' biggest fan it was another baby who was on his mind as he trotted back in the Cambridge sunshine.
Because he had been through a rugged week at home after his wife, Maree, gave birth to their son Jonty, 10 weeks ahead of schedule.
"We had no indication, it happened really quickly and things were a bit touch and go there for a while with both Maree and the little fella," said Smolenski.
"They are both fine now but Jonty is still in hospital so that was on my mind a lot."
Smolenski didn't have to do too much thinking during Saturday's race though as Royal Aspirations surged to the lead early and just kept getting further in front, winning by four and a half lengths.
"He has always been a special horse but he hates Addington for some reason, which is why he misbehaves there sometimes."
To counter that Smolenski's grandfather, Fred Fletcher, who trains Royal Aspirations, based him at Cambridge last week to get him used to the surroundings.
It worked, as Royal Aspirations warmed up looking like a seasoned veteran and made Smolenski more passenger than pilot. The win also tags Royal Aspirations' dam, Aspiring Gal, as one of our great trotting broodmares.
She has also left Smolenski and Fletcher's other Jewels winner Jinja Gal and Triumphant Monarch, who was an unlucky fourth in the 3-year-old trot on Saturday.
While Royal Aspirations' win came after an emotional week, the 4-year-old trot victory for Charlemagne pulled at the heart strings even more.
The 90-1 outsider made the most of a perfect drive from Phil Butcher to win for local 73-year-old trainer Colin Butler, providing the highlight of his lifetime in racing.
But many of the congratulatory hugs were directed toward Butler's wife Raelyne, who part-owns Charlemagne and has been battling cancer for nearly three years.
The other trot was won by Cyclone U Bolt, whose gate speed and passing lane slingshot got him home from Stent, whose run for second was enormous as he rivalled Cheer The Lady and Border Control for unluckiest horse on the day.
By Michael Guerin

Email

Michael