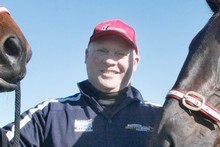 The man best placed to judge I Can Doosit's champion credentials is one of the few people in the country not allowed to watch him race live.
Champion trainer Tim Butt remains disqualified even though that could change today if he is granted a stay of proceedings pending his appeal.
Butt was disqualified for six months in Sydney last week for a positive swab to arsenic returned by Raglan in last November's Miracle Mile.
He has appealed against both the verdict and the sentence and a judge will rule today on whether his stay of proceeding will be granted.
So Butt could be back training, at least temporarily, this week, or his brother Anthony will remain in charge of the stable.
While reluctant to discuss the specifics of his case for legal reasons, Tim Butt is not pleased with the way the hearing was handled or the fact that a similar case involving a positive to arsenic for a Victorian trainer was thrown out.
If his disqualification is upheld he risks being kicked out of his own house for six months, a punishment which still seems disproportionate with the offence considering what you would have to do in the normal world to get banned from your own home.
As pained as he is by the process he is going through, Butt is still, first and foremost, a world-class horse trainer and the man best placed to rate I Can Doosit's renewed surge towards greatness.
When I Can Doosit won the Anzac Cup at Alexandra Park by a staggering eight lengths last week he became just our fourth trotting millionaire. Butt trained two of the others - Lyell Creek and Take A Moment.
He also trains Vulcan, who while not in I Can Doosit's class beat him in the Dominion Handicap this season and finished second to him in the Interdominion Final.
And Butt, until last week's disqualification forced his name off the paperwork, also owned Stig, the most logical danger to I Can Doosit in this Friday's Rowe Cup.
So you could say that when it comes to trotters, Butt has a fair idea what he is talking about.
And what he is talking about is I Can Doosit having gone to another level.
"He has always been a top horse but in my opinion in a lot of his big wins things have gone his way because Mark [Purdon] has driven him so well," Butt told the Herald.
"But that has changed in the last two or three starts.
"His recent wins have been awesome and it takes a very special horse to do what he did last Friday.
"He has now simply got the measure of these horses and with those really good trotters they can get in a zone.
"After all, at one stage, Take A Moment won 17 races in a row."
While the competitor in Butt stops him admitting it, he realises I Can Doosit has overtaken Take A Moment on the ladder of New Zealand's greatest trotters.
But he is adamant Lyell Creek still sits on the top rung.
"Lyell still has to be the best because of how much he won, where he won, how he won."
I Can Doosit gets his chance to move a step closer to Lyell Creek's incredible $3 million career earnings in Friday's Rowe Cup and will then be spelled before the biggest season of his career next term.
One way or another, Butt will be back to take him on with Vulcan then, having either served six months on the sidelines or not, depending on his appeal.
Also heading to Alexandra Park on Friday night is the Mark Purdon-trained Hands Christian, the Easter Cup winner returning from a luckless Chariots Of Fire bid in Sydney to take on Terror To Love and Gold Ace in the Messenger Stakes.
By Michael Guerin

Email

Michael