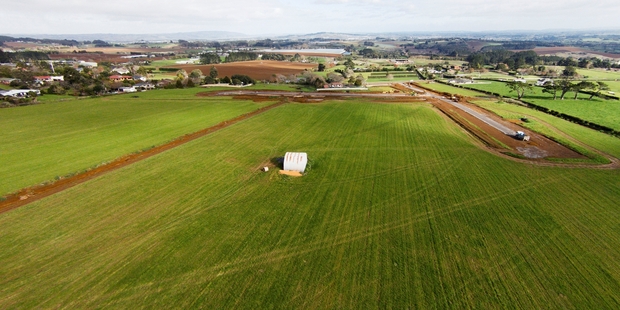 Auckland's quarter-acre dream is far from over - huge sections of more than half an acre are being sold from $350,000 within the city boundaries.
While Mayor Len Brown seeks intensification, Bayleys agents Andrew Ferguson and Ben Jameson are marketing 44 lots in the Bombay Hills on the city's southern outskirts and say 26 sections in the planned Bombay Heights subdivision at 117 Bombay Rd have already sold off the plans.
The sections are huge by Auckland standards: 2500sq m to 3229sq m compared to a 111sq m lot at Hobsonville Pt, where a 40sq m terrace house was sold in a house-and-land package for $339,990 as part of an experiment with small houses.
Mr Ferguson said the Bombay sites were a two-minute drive from the Southern Motorway's Bombay interchange and he expected large houses of 240sq m to 280sq m to be built. He estimated section buyers could spend $2000/sq m to $2500/sq m building their places, resulting in $700,000 being spent on construction alone.
A group of locals are selling the 10ha site to meet what Mr Ferguson said was Aucklanders' appetite for large pieces of land.
Mr Jameson said demand for such big lots was an emerging trend in the lifestyle property landscape, "as they give families room to play".
Grant Porteous of New Zealand's biggest house building business G.J. Gardener said new three-bedroom, two-bathroom single-level 120sq m house-and-land packages on 260sq m sites in the Takanini area were selling for about $499,000.
For $509,000, buyers could get a new 136sq m to 142sq m two-level house on a 206sqm-235sq m site in that area, he said.
Bayleys said the first stage of the Bombay Heights subdivision was 20 sections and titles due to be issued next month. Stage two's 24 sections are to be developed this year and titles issued next year.