2/8 LOGAN TERRACE, PARNELL
SIZE:
House 259sq m; land 420sq m.
PRICE INDICATION:
CV 2011 $1.2 million.
INSPECT:
Sat, Sun noon-12.30pm. Auction August 13.
SCHOOL ZONES:
Double Grammar zone.
CONTACT:
Cathy Roselli, Ray White, ph 021 750 454.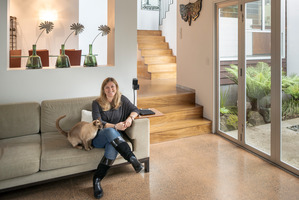 When you work in visual industries like film and television, it is not surprising that you have a pretty good appreciation of well-designed space. Film directors and producers Julia and Wayne Leonard do sheepishly admit that has led them to a gypsy life, changing houses every two years, on average.
"We've had 10 houses in eight different suburbs, from Grey Lynn to Titirangi, all over," laughs Julia. "Each of them was different. We'd just see one and fall in love with it and make an offer."
Four years in their current house is the longest they've stayed put. They are moving now only because they need to be closer to the pool where their daughter, a representative swimmer, trains twice a day -- the hour-long round trip is eating into family time.
You can sense their reluctance, as the two storeyed townhouse tucked down a right-of-way on the Hobson Bay side of Parnell is a gem. It was an early example of how well-designed density can work close to the city: the house was designed by English architect Graeme Campbell for himself and his wife, fashion designer Tatjana Windhager, in 1992.
Using split levels, spaces opening off each other and soaring, plywood-lined ceilings, Campbell fitted a lot of house into a very small space. Tatjana added the master bedroom suite in 2005, but the bones of the house and its clever siting on its plot have stood the test of time.
Wayne points out the quality of the details that are very today: polished concrete floors in circulation areas, negative detailing around ceiling and wall joins, airy louvre windows. The house captures the northern sun from its split-level living spaces, opening to a series of courtyard rooms. In summer, with louvres and doors open, the house boundaries seem to disappear. One courtyard has a generous outdoor fire. Lacy Japanese bamboo walls shield all of them from neighbours.
From the dramatic entry the house offers glimpses of adjoining spaces and curved ceilings and industrial-style stairs and bridge walks. Apart from painting out 90s-era colours, retiling and carpeting in today's palette of white and charcoal -- the Leonards have had to do very little. Even the kitchen cabinets are original -- a daring-for-then, but now classic, combination of charcoal lacquer and stainless steel benches.
The Leonards updated appliances but that was about all it needed. Although there is a dining room, it is the kitchen with its servery and built-in sunbed seat where everyone loves to curl up in the sunny corner that opens to the courtyard. Next door is the laundry, which is big enough to double as an exercise room, or it could be a playroom or a study.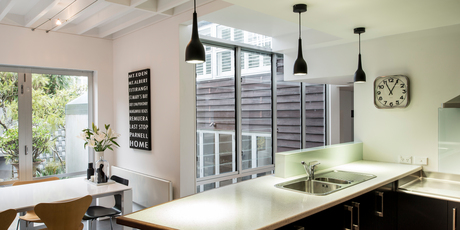 The formal living room captures more of the indoor-outdoor vibe but, in winter, is cosy and enveloping. Upstairs is a gorgeous open-plan office that opens to a sunny balcony with views across neighbouring roofs to Hobson Bay. From this spot you can see how cleverly the architect tucked the house in to give owners and neighbours privacy, but preserve views. Two of the three bedrooms have walk-in wardrobes, the bathroom is still smart and up to date.
The couple say visitors love staying here as they can disappear into their corners but still feel connected to the action.
It is the more recently added master suite that really packs a punch: Tatjana specified dark oak built-in cabinets, and a walk-through wardrobe -- all leading to the focal point bathroom wall of gleaming, watery blue-green. Even on a dull day, the glass mosaics gleam -- the Leonards love how the colours change as the sun moves. Again, a lesson in how good design lasts the distance.
Wayne says: "It'll be hard to leave, but we'll take a bit of this place with us."