Mt Eden man's battle with council over neighbours' renovation plan inspires other Aucklanders to speak up.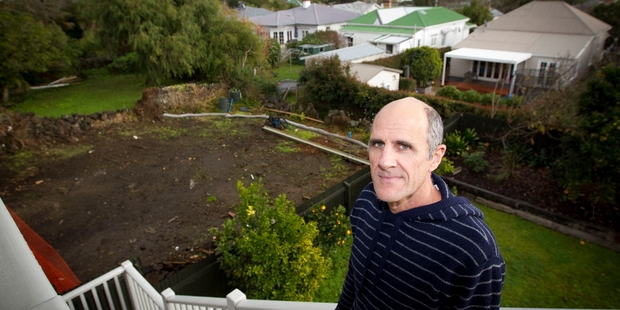 A Mt Eden man's problems with Auckland Council over his neighbours' renovations have been backed up by others telling of fights across the city.
Simon Faire of Pentland Ave last month spoke out about a $40,000 fight with the council because his neighbours got permission for a big extension, which he wanted rejected because of many District Plan infringements.
Yet the council gave it consent without telling him or giving him the right to object, so he filed documents in the High Court and forced a change.
Roger Hawkins said he had a similar situation in Ponsonby's Wanganui Ave.
"Our old neighbours ... built an overheight extension on the back of their house without any consultation, and took all our sun and light for the back of our property," Hawkins said.
"With no consultation, they got their plans approved by the council and gave us one day's notice that their house was being altered.
"We objected as the plans clearly showed that they were over height. Council could not have cared less and did nothing," he said. "We objected through every possible council means during the building process, including meeting ... the mayor to ask for council to at least re-look at the plans and alterations.
"They were useless and again, did nothing. The new addition was built and in spite of our objections finished as to the council approved plans."
The council was not supporting long-term residents, despite the fact that it was these ratepayers who funded its $703 million annual salary bill, Hawkins said.
Warwick Jones of the Birkenhead Residents Association complained about a 3m-high retaining wall on Palmerston Rd at Birkenhead Pt, saying the heritage area rules laid down that 1.8m was the maximum. Yet the wall was not stopped.
"By the time the owners of the wall plant trees - and they are going to, I am sure of it - the neighbour on the north side has to lose two to three hours' summer morning sunlight. This is just the beginning," he said, fearing what the new Unitary Plan may bring.
Judy Selvaraj of Northcote Pt said she had found herself in similar circumstances to Faire, trying to stop big additions near her place in Church St.
"I was caught up with the planners from Auckland Council in regard to a neighbour building another floor on top of two others," she said.
But unlike Faire, Selvaraj said she was at least consulted.
"I was asked to sign an agreement as a neighbour for resource consent for it to be granted. They will now look into my front door from the third floor. Auckland Council assured me that even if I did not sign, they would go ahead," said Selvaraj, saying people should be allowed to pursue their dreams, "but the arrogance of the planning department ... and the attitudes towards citizens is outrageous".
"Why do they bother to send a form for me to sign to approve, when, at the same time, they indicated it would make no difference?"
The council's report on the Mt Eden villa changes which Faire successfully fought showed coverage, permeable surface, front yard building setback and landscaping provisions were infringed.
Faire said he wanted the council to stop people breaching rules, or at least tell affected parties so they could object.
A council spokesman would not comment on individual cases but said if people feared a neighbour's changes, they should contact the Resource Consent Department. "In the context of the number of resource consents dealt with each year, situations where neighbours take legal action, as did Mr Faire, are very rare."
Council advice
If people fear a neighbours' changes the council advises: "They should contact the Resource Consent Department. Resource consents are public documents and are available for inspection at the council's offices, and staff are available to speak with people who have concerns and explain how the process works."
Simon Faire used the local government information procedures but a council spokesman said this was unusual.
"In the context of the number of resource consents dealt with each year - more than 12,000 - this is not that common," he said.
Asked if the council saw many instances in which a neighbour tried to find out what was going on, opposed a planner's report and took action he said: "Again, in the context of the number of resource consents dealt with each year, situations where neighbours take legal action as did Mr Faire, are very rare."
Concerned neighbours
*Simon Faire, Pentland Ave, Mt Eden: Forced changes at villa.
*Roger Hawkins, Wanganui Ave, Ponsonby: Powerless to stop neighbours.
*Warwick Jones, Birkenhead Residents Association: Could not stop new 3m wall.
*Judy Selvaraj, Church St, Northcote Pt: Worried about renovations nearby.