25 LANDSCAPE RD, EPSOM
SIZE:
Land 948sq m, house approx 295sq m
PRICE INDICATION:
2011 CV $2 million
INSPECT:
Sat/Sun 1pm-1.30pm. Auction July 16
SCHOOL ZONES:
Double Grammar zone
CONTACT:
Diana Buczkowski, Barfoot & Thompson, ph 021 408 303; Peter West, ph 021 939 222.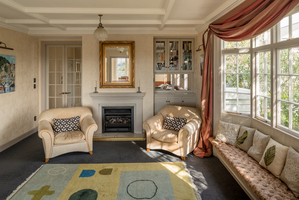 TV's Grand Designs has a lot to answer for. Ask avid viewer Grace Zou, who cheerfully admits her family is farewelling their Epsom home because "there really isn't anything that needs to be done here".
"I want to do our own grand design," she says.
Her partner, Rowan Atwood, agrees. There is no point in trying to upgrade an already perfect home just for the sake of it.
The 1927 character home first caught their three years ago. They liked its easy modern living spaces and fine views across the city. "They say this part of Landscape Rd is one of the highest residential roads in the central Auckland isthmus in terms of height above sea level. So you get a great elevated view," Rowan says.
That the villa is in double Grammar zone was also a plus, and it has proved a comfortable home for both them and their children, Michelle, 4, Audrey, 3, Robbie, 1, and their cat, Milo.
The only thing the couple felt the need to change inside was making the northerly kitchen and dining open-plan.
Outside, landscaping company Natural Habitats created more flat outdoor space for the littlies to play using terracing with a retaining wall.
The roadside focus is on the charming character of the weatherboard home with clay tile roofing, double garage plus off-street parking.
Inside, Mt Eden takes centre stage in northerly views stretching from upper Waitemata Harbour, past Eden Park, the Sky Tower and Rangitoto around to One Tree Hill. "On a clear day you can see Coromandel," Rowan says.
Big, wrap-around decks celebrate this view, opening off the gourmet kitchen, which is now fully open-plan with the dining area alongside.
Two of the spacious home's three living areas are next door; the lounge and family/TV room, which have gas fireplaces.
An office on this entry level has its work-from-home status enhanced by a secondary entrance nearby. It could function well as a sixth bedroom as there's a bathroom and separate toilet handy.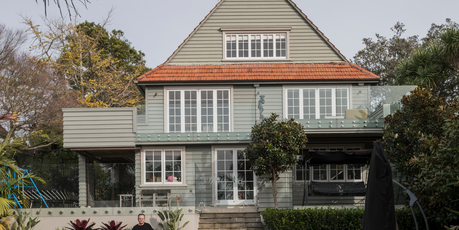 The children love playing downstairs in the big rumpus room, which could also be a teen hangout. Guests would be happy in the fifth bedroom, which has en suite access to this floor's bathroom.
Their landscaping delivered good indoor-outdoor flow from the rumpus to the fenced play area outdoors. They also resurfaced the swimming pool, which delivers on sun, shelter and privacy and is their favourite summertime haunt. "The whole family will be down there; the girls wearing their float devices.We relax by the pool, have a few drinks and invite friends around for a swim," Rowan says. Grace smiles: Michelle swam with her Daddy after kindy every day in summer."
Mature subtropical plants bolster the pool area's resort-like vibe. Grace and Rowan added a smattering of fruit trees to the property's southern, entry-side planting but the itch to undertake their own grand design will mean new owners reap the fruit of that particular bit of labour.