168 Onehunga Mall is in a premium position with dual street frontage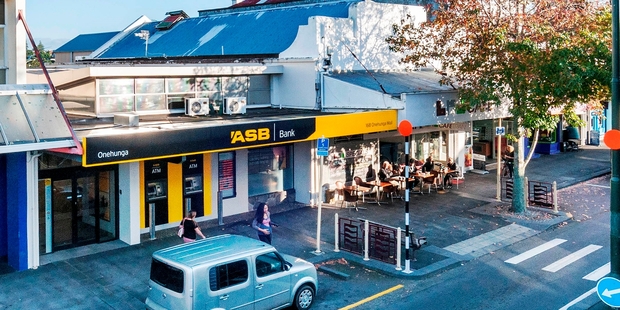 A building with dual street frontage occupied by an ASB branch in Onehunga is up for auction with a long-term lease to the bank potentially going through to 2031.
"This property offers several benefits that canny investors are looking for," says Tim Turner of NAI Harcourts, who is marketing it for sale by auction at 11am on Thursday, June 26 at the Royal New Zealand Yacht Squadron, Westhaven.
"It is a freehold-titled single-level premises with low site coverage and good road frontage, occupied by a secure long-term tenant, in a growth location; and it has been seismically strengthened.
"The ASB Bank Onehunga gives prospective owners peace of mind about the future income stream, having no earthquake preparedness issues to work through and the bonus of future development upside," Turner says "As such it will be very attractive to investors as properties combining these attributes are few and far between. As is often the case with properties tenanted by banks, 168 Onehunga Mall is in a premium position within one of Auckland's long established retail centres."
The building sits on a 503sq m site with frontages to both The Mall and Upper Municipal Place. It covers just 235sq m or 47 per cent of the site, allowing for future multi-level development under the current Business 2 zoning. According to the Auckland Council's Draft Unitary Plan and Spatial Plan, Onehunga has been designated a priority area and principal centre for housing, employment intensification and a central hub for high-quality transport networks.
Turner says this means by 2050 the Auckland Spatial Plan assumes that a minimum of 12,000 employees and 6000 dwellings with a total population of 14,000 residents will be located within a 1km radius of the main street.
"For this reason, investors would be wise to think not only of the quality tenancy and long-term income security, but also the future development possibilities for the property."
No 168 Onehunga Mall was built in 1964 as a dedicated bank premises and the ASB Bank is the sole occupier, paying annual rent of $83,500 plus GST. The current lease is six years from November 1, 2013, with two six-year rights of renewal, giving it a final expiry date of October 31, 2031, if all rights of renewal are exercised. The lease calls for three-yearly market reviews and ASB Bank pays the rates and outgoings.
"Investments tenanted by banks are highly sought after due to their secure lease terms, fastidiously maintained premises and the fact they are generally situated in strategic locations," Turner says.
The single-level building is mainly reinforced concrete, with nine parking spaces to the rear and meets at least 67 per cent of the New Building Standard (NBS).
"It is the landlord's obligation to maintain the seismic rating at a minimum of 67 per cent," Turner says.
With a rating value of $1,120,000 at July 2011, the retail outlet is surrounded by busy shops and conveniently located near Dress Smart, Countdown and the public library. It is 8km south of the Auckland CBD and about 11km from the airport.

What's on offer
The property: Retail building built in 1964.
Location: 168 Onehunga Mall.
Tenant: ASB Bank.
Agency: NAI Harcourts.
Sales method: Auction at 11am on Thursday, June 26.
Where: Royal New Zealand Yacht Squadron, Westhaven.

Features:
• High profile with dual street frontages.
• Secure long-term bank tenant.
• Low (47 per cent) site building coverage.
• Development potential on balance of site.