447 SIM RD, PAERATA
SIZE:
Land 20.13ha, house 351sq m.
PRICE INDICATION:
GV $1.83 million.
INSPECT:
Sun 1-2pm or by appointment. Tender closes June 18.
SCHOOL ZONES:
Pukekohe High, Rosehill College, Paerata Primary.
CONTACT:
Ben Jameson, ph 021 568800.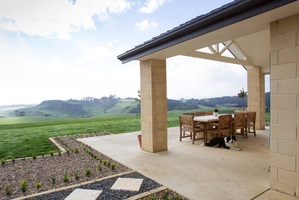 With the long, dry summer a fast-fading memory, the vegetation around Barbara Needham's country home is now lush, green and verdant, providing sustenance for her cattle, which graze lazily in the distance.
Barbara's been running the farm herself since her husband Gordon died a year ago, so there isn't much time to sit and stare, but when she does indulge there is no shortage of beautiful views.
On a clear day the Sky Tower is visible.
At night the lights of Pukekohe and Karaka twinkle gently. "It's a lovely outlook and I never get tired of it," she says.
Barbara points out a large rock formation known locally as "The Bluff". "One night we had a lightning storm which lit up the sky, silhouetting a group of horses up there. It was just incredible."
Gordon and Barbara built the Firth Manorstone house two years ago and they had great plans for the future. He was an airline captain who lived and breathed flying, even when he was off-duty.
The couple's three daughters are all law students or lawyers, but one is taking time out to develop her flying skills. "They all grew up with planes, so it's in their blood," she smiles. "We were even going to develop an air strip here so that we could fly directly to Slipper Island on the Coromandel, which is owned by Gordon's family.
"Ardmore is only a short drive away, though."
The house is spacious, warm and quiet and boasts five generous bedrooms, some of which the girls use when they visit home.
The guest room has its own en suite, and the others are served by the elegant, tiled main bathroom.
The master bedroom also has en suite, as well as a walk-in wardrobe, complete with ironing board.
The kitchen, situated at the heart of the house, is well-equipped with a double oven and handy walk-in pantry. There are lots of drawers for storage, and a large granite bench-top for food preparation.
It overlooks the main living and dining area, which has tiled floors with under-floor heating, while a separate, carpeted room to the side is what Barbara calls the "formal" living room.
There is internal access to the double garage and a neat, efficient laundry. A spacious office completes the interior picture.
Barbara's been working hard on the garden.
There's an Italianate feel to the planting and because the region is often dry during summer she's used lots of stone, choosing plants that don't need a lot of water. This is clearly a good spot for roses, and the box hedge is sprouting at a dramatic rate.
"We were also hoping to put in a pool and a tennis court. It's essentially a lifestyle farm," she says of the property.
"A few years ago we had an influx of Queen St farmers around here but they got fed up with commuting on the motorway and many went back to town. Now we've got train stations being built at Paerata and Pukekohe, moving out here would be feasible again."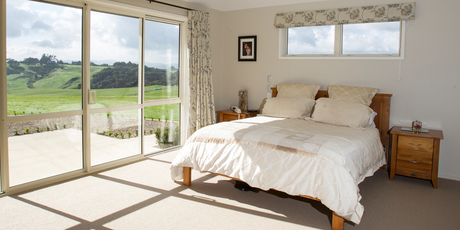 But wait: there's another transport possibility! Barbara is also selling Gordon's much-loved Cessna 185 Tail Dragger.
"It could come with the house for the right price," she jokes. "Seriously though, it's a plane for a real enthusiast but I'm more than happy to talk!"
Understandably, Barbara is hoping to find a smaller property and gain some flexibility to spend time with her daughters. "There's still a lot of potential here, and I can really recommend this lovely friendly neighbourhood."