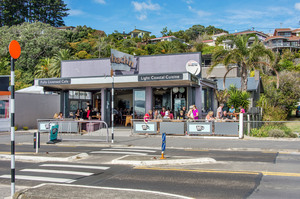 Strong bidding on a wide range of properties at Bayleys' latest Greater Auckland commercial and industrial portfolio auction resulted in 12 out of 15 properties on offer selling for a total of $17,710,000.
Bayleys Real Estate commercial and industrial general manager John Church said there was particular interest in retail and industrial investment premises.
"This was a very good result and the high clearance rate was a reflection of the demand for quality property that is a feature of the market at present.
"In several cases purchasers were prepared to pay a premium to secure a property which meant there were some firm yields on the investment offerings.
"A medical centre in Mt Albert sold at a 4.9 per cent yield, a waterfront cafe in Maraeti yielded 5 per cent and a Remuera retail property fetched the highest price of the day, selling at 5.3 per cent yield which was a strong result for a property of this size."
The property at 367-369 Remuera Rd, leased by four tenants, attracted bids from several parties. Two bidders fought it out in the end with a series of $50,000 increases until the property sold for $4.3 million through Quinn Ngo, James Chan and Matt Lee of Bayleys Auckland
On a corner site with Clonbern Rd, next to a public car park and the New World supermarket, the 433sq m building is anchored by a Ray White franchise and a Sierra Cafe, both on six- year leases expiring in 2018 with no rights of renewal.
"This freehold investment property is on a prime corner position in the heart of Remuera Village with big exposure to high volumes of passing vehicles and pedestrians, and in particular cars turning into Clonbern Rd on their way to the carpark and New World," said Quinn Ngo.
The lowest investment property yield of 4.95 per cent came from a 354sq m building on a 1029sq m residential 6B zoned site at 728 New North Rd, Mt Albert, which sold for $1,620,000 through Mike Adams and James Appleby of Bayleys Auckland.
The property, owned by one family for more than 50 years, was originally a house with a doctor's surgery attached, but was subsequently converted into a full medical centre.
Anchored by the Four Kauri Family Medical Centre plus a smaller osteopath tenancy, both on short-term leases, the property was the most fiercely contested offering of the day, generating 49 bids.
Bidding started at $800,000 and a further 35 mostly $20,000 increases took the price through to $1,520,000 when the property was declared "on the market" by auctioneer Richard Valintine.
Eleven further mostly $10,000 and then $5000 bids, totalling an additional $100,000, took the property through to its final selling price.
A waterfront cafe across the road from Omana Beach in Maraetai sold for $1,075,000 at a 5 per cent yield through Shane Snijder and Peter Sullivan of Bayleys Counties.
Built about 80 years ago as a seaside home and converted into a general store in 1950, the 280 q m cafe on a 460sq m site at 249 Maraetai Drive has been a popular waterfront feature for more than 10 years.
The second most heavily bid property of the day was a 315sq m showroom, warehouse and office unit at 132 Cavendish Drive, Manukau.
It sold for $790,000 at a 6.1 per cent yield through Tony Chaudhary of Bayleys Manukau and Sunil Bhana and Mike Houlker of Bayleys Auckland.
The unit, which is occupied on a six- year lease from last November by NZ Safety Ltd, a subsidiary of Australian based multinational Wesfarmers, attracted 45 bids.
Bidding started at $500,000 and the property was declared "on the market" at $740,000.
A further 20 bids, involving $5000, $2000 and $1000 increases, followed.
Further north two smaller retail properties in the recently refurbished Wairau Junction retail complex in Wairau Valley on the North Shore, marketed by James Chan and Clint Barber of Bayleys Auckland and Damian Stephen of Bayleys North Shore Commercial, also attracted strong bidding.
Unit 17 at 170 Wairau Rd, a 105sq m unit occupied by Jesters Pies in the renovated Wairau Junction retail complex, was sold for $730,000 at a 6.5 per cent yield.
It is leased for 10 years from last October, with two-yearly rent reviews.
A 59sq m outlet occupied by Curry Club Indian takeaway sold for $370,000 at a 6.75 per cent yield.
It has a 10-year lease from last September, with two-yearly rent reviews to CPI plus 1 per cent.
These two sales followed the auction sale two weeks earlier of a 201sq m unit at Wairau Junction refurbished for Westpac Bank which sold for $1,676,000 at a 5.7 per cent yield.
It has a 6-year lease from March this year to the bank, with three three-year rights of renewal.
Also selling from the Greater Auckland portfolio was another 334sq m retail outlet at Wairau Valley occupied by Butcher Jacks Ltd which was bought for $1,156,888 at a 6.9 per cent yield.
It was sold by private treaty with an eight-year lease from last April, with two-yearly rent reviews.
This brings to 12 the number of units sold in the Wairau Junction complex by Bayleys since December last year at prices ranging from $360,000 to $3,008,880 and at a yield range of 5.7 per cent to 7.6 per cent.
Properties with development potential also attracted strong interest at the Greater Auckland auction.
A 4012sq m business 5-zoned site in two titles at 39-41 Stonedon Drive, East Tamaki sold for $2,160,000 at a land value of $538 a sq m through Dave Stanley, Simon Andrews and John Bolton of Bayleys Manukau.
It has a 644sq m warehouse plus a 128sq m office covering around 17 per cent of the site and was sold with a two-year lease-back to vendor Multi-Trans that will produce holding income of $95,000 a year net.
A 3190sq m vehicle testing site at 53 Princes St, over in Onehunga, occupying a full block through to Neilson St, with a 926sq m building, sold with vacant possession for $2.5 million through Quinn Ngo, James Chan and Matt Lee.
The property's mixed use zoning allows for commercial and residential buildings up to 15. metres high.
Ngo said the auction was brought forward two weeks after the vendor received an offer for $2,068,000.
Bidding was started at this price and further bids totalling $432,000 were received.