Premier suburban developments in high-profile central location up for tender.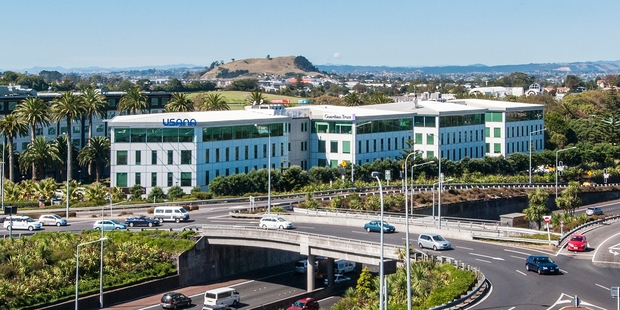 Two substantial office units occupied by multinational tenants in the Ascot Office Park in Greenlane are up for tender as part of Bayleys' latest Greater Auckland portfolio.
The two strata floors, 645sq m each, are for sale in Building A in the office park at 95 Ascot Ave, Greenlane, which is between Ellerslie Racecourse and the Greenlane State Highway 1 motorway interchange. They are being marketed by Mark and Rachael Pittaway, Bayleys Auckland, with tenders closing on May 15.
Located on Levels 1 and 2 of the building, the units were originally both leased to The Integral Technology Group for eight years from November 2007. But after that company was acquired by Dimension Data's New Zealand operation in 2012, the merged business took a new 12-year lease over 3200sq m of office space in the former City Markets building owned by Argosy Property in the Viaduct.
An assignment to Argosy of Integral's lease in the Ascot Office Park means the NZX listed property company is responsible for paying the rental on the two units which are producing total net annual income of $629,701, until the lease's expiry in October next year.
The next two-yearly rent review due in April next year will result in that rental rising by the increase in the consumer price index plus 1 per cent for each 12-month period.
Argosy has subleased Unit 1A on Level 1 of Building A which comes with 38 ground level and basement carparks to USANA Health Services, a US-based multinational which sells nutritional supplements, weight management and skin care products in 18 countries. Unit 2A, located on Level 2, along with 18 basement carparks, has been subleased to New Zealand dairy multinational Fonterra.
Rachael Pittaway says USANA, listed on the New York Stock Exchange with a current market capitalisation of approximately US$1.1 billion, has extended its lease from the expiry of the head lease for a further three years and five months from November 1, 2015, with no right of renewal.
That lease extension will produce initial net annual rental income of $292,048 including 25 car spaces at $45 per week with fixed annual rental increases of 3 per cent. Additional income can also be generated from leasing a further 13 carparks that come with the title.
Pittaway says investors have the option of tendering for the two units together or separately. With Fonterra's sublease on Unit 2A expiring on October 30, 2015, she says this unit could appeal to an owner occupier who would receive significant cashflow before moving in.
"The units are also attracting interest from investors who have plenty of time to find other occupants before the leases expire or who could negotiate with the current tenants to extend their occupation."
Sited on what was formerly part of Ellerslie Racecourse's land, the Ascot Office Park was completed in 2007 by Mansons TCLM which strata titled the complex and sold individual floors to a combination of investors and owner occupiers. The office park forms part of a substantial commercial precinct which also includes the Mercy Ascot Hospital, Novotel Hotel and the Ellerslie Racecourse and Convention centre.
"The Ascot Office Park is one of Auckland's premier suburban office developments consisting of modern A-grade buildings strategically located at the Greenlane motorway interchange," says Mark Pittaway.
"It offers tenants high quality office accommodation in a pleasant park-like environment that is a convenient, high-profile central location for staff and clients with a high ratio of carparks."
What's on offer?
The property: Two large office units
Where: 95 Ascot Ave, Greenlane
Agency: Bayleys Auckland
Sales method: By tenders closing on May 15
Features:
• Within Ascot Office Park
• Producing net annual rent of $629,701
• Ideal for owner occupiers
• Significant cashflow prior to moving in
• Close to SH1 Greenlane motorway interchange.