Former Lockwood Homes display site represents development opportunity in popular location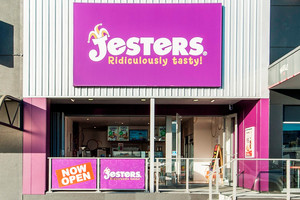 A Jesters Pie outlet occupies Unit 1, at 170 Wairau Rd. A standalone complex is for sale at 42 View Rd (top right) and an aerial view of 202 Wairau Rd (below) which is also for sale.
One of the last large parcels of commercial land remaining in the Wairau Valley is up for sale on Auckland's North Shore along with a neighbouring vacant industrial building and a number of small shops in the nearby Wairau Junction retail complex.
The land is being sold on behalf of Lockwood Homes which has owned the site for the past 40 years and has previously used it for displaying show homes. The property, which is featured in Bayleys latest Greater Auckland portfolio, is now surplus to requirements and is up for tender closing on May 15, unless sold earlier.
Located on an elevated site at 202 Wairau Rd, with access also from 38-40 View Rd at the rear, the 7136sq m block of land "represents a huge development opportunity in a very popular location", says Nick Howe-Smith, a director of Bayleys North Shore Commercial, who is marketing the property with colleagues Trevor Duffin and Ranjan Unka.
The current Business 9 zoning allows for a wide range of low-intensity business uses encompassing predominantly commercial and light industrial activities but also some retailing. The site is in an established commercial and industrial area, with Southern Cross Hospital next door and other adjacent properties including warehouse, office, showroom, retail, restaurant and church tenancies.
"The flexibility provided by the zoning makes this property a great addition to any investment portfolio and a prime site to develop or land bank," Howe-Smith says.
Duffin says there are no buildings on the land apart from a garage, providing a "blank canvas" for a new owner to work with. He says the land has a sloped contour rising upwards from View Rd at the rear of the site to a nearly level building platform of close to 4000 sq m. From that point the site slopes gently downwards to a further level platform of around 2000sq m along the Wairau Rd frontage.
"Due to the site's elevation there are extensive views to the east and north over the upper Wairau Valley," says Duffin. "The property has great profile with over 50m of frontage onto the busy main arterial of Wairau Rd as well as approximately 55m on to View Rd."
Wairau Rd is a major arterial route between Glenfield and Takapuna. View Rd runs parallel to Wairau Rd and also connects with it, near the entrance to the Wairau Park bulk retail shopping centre at one end and just past Southern Cross Hospital at the other. The northern and southern access ramps for State Highway 1 are a short distance away via the Tristram Ave interchange, giving the property excellent road links to the Auckland CBD, Takapuna and Albany.
The property is in two titles, with the smallest encompassing 833sq m at the Wairau Rd end of the site and the other title running from View Rd. A right-of-way easement exists on a shared driveway with the neighbouring property at 30-36 View Rd.
Unka says the property is surrounded by a large number of supporting businesses, medical facilities and residential homes, as well as a good labour force.
Duffin and Matt Mimmack of Bayleys North Shore Commercial are also marketing a large neighbouring standalone industrial complex at 42 View Rd. The 2072sq m building encompasses 1534sq m of medium stud warehouse space, with multiple roller door access and a cart dock, plus 537sq m of well presented, air conditioned offices and amenities over two levels. The building, which had its roof recently replaced, is located on a 3729sq m site with car parking for up to 26 vehicles.
The freehold property is for sale or lease with vacant possession and expressions of interest are being sought by Thursday, May 15.
"This is one of very few substantial, good quality industrial vacant buildings available in the Wairau Valley, where a strong take up of properties by owner occupiers, tenants and investors has pushed vacancy rates down to negligible levels," says Duffin. He says owner occupiers have been active in the market.
Recent industrial transactions by Bayleys North Shore Commercial involving business buyers have included the sale of 961sq m Unit 8 at 75 Ellice Rd for $1.3 million by Duffin and Greg Healey, and a 703sq m warehouse and office building on a 1011sq m site at 13 Kaimahi Rd, also sold vacant for $1,150,000 through Mimmack.
The agency has also sold a number of smaller Wairau Valley industrial premises for under $1 million, where Duffin says both owner occupiers and investors are competing for properties. A case in point was the recent auction sale of a vacant 156sq m industrial unit at 18-20 Ashfield St for $312,000, where bidders were split between investors and owner occupiers.
"There continues to be good, solid demand for smaller industrial premises in the Wairau Valley from boutique manufacturers as well as trade and auto businesses which is why investors are willing to take a punt on leasing up vacant buildings," Duffin says. "The expansion of bulk retail and leisure and entertainment businesses in the valley is also likely to continue which is resulting in a number of larger industrial properties being converted to other uses. The combination of these factors is expected to keep vacancy rates at low levels."
On the southern corner of Wairau Rd and View Rd, four food outlets in the renovated Wairau Junction retail complex at 170 Wairau Rd are also up for sale as part of Bayleys Greater Auckland portfolio through James Chan and Clint Barber of Bayleys Auckland and Damian Stephen of Bayleys North Shore Commercial. Two of the properties with new 10-year leases, a Jesters Pie outlet occupying Unit 17 and Unit 15 occupied by the Curry Club Indian takeaway, are up for auction on May 14.
The 105sq m Jesters outlet is producing net annual rental income of $47,240 with two-yearly reviews to the consumer price increase (CPI). Stephen says the unit is one of over 50 stores the gourmet pie business has across Australasia and Korea.
The 59sq m Curry Club premises generates $25,000 per annum net in rent with two-yearly rent reviews to CPI plus one per cent. Locally owned, the business has another outlet in Albany and also operates a wholesale naan bread factory.
Two other shops are up for tender closing May 16, unless they sell earlier. The largest is a 334sq m unit occupied by Butchers Jacks on an eight-year lease from April 2013 producing net annual rental income of $80,000, with two yearly rent reviews to CPI. The other 60sq m unit is occupied by Persia Kebabs on a four-year lease from June 2013, which is earning net annual income of $30,000.
Wairau Junction was bought by Midpoint Investments in 2012 and has undergone significant refurbishment since then, including new sprinkler systems and facades on all of the tenancies as well as some interior renovations. The redevelopment has attracted new tenants and has also enabled long-term leases to be renegotiated with existing tenants, says Stephen. Bayleys sold eight units in the complex by auction in December last year at prices from $360,000 to $3,008,880 and at a yield range of 6 per cent to 7.6 per cent.