103 MOUNTAIN RD, EPSOM
SIZE:
Land 1910sq m, house 410sq m
PRICE INDICATION:
Interest is expected above $3.5 million
INSPECT:
Sat/Wed 1pm-1.45pm or by appointment. Tender closes April 24
SCHOOL ZONES:
Newmarket Primary, Epsom Normal Intermediate, Auckland Grammar, Epsom Girls' Grammar
CONTACT:
Russell Birkinshaw, ph 0274 969 211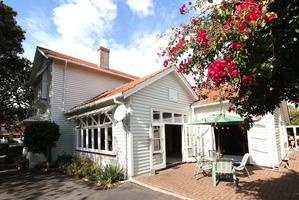 A century or so ago, the lady of this house used to sit in the bay window at the front, working her crochet hook and thread and occasionally glancing across the road towards the horse-drawn carts heading into Mercy Hospital.
Her husband was Judge George Finlay of the Supreme Court and this was home to their family including their daughter Patricia, who later became Lady Caughey, wife of Sir Harcourt Caughey, of Smith & Caughey department store.
They built their home on land whose title is dated 1906 and later, in 1914, they purchased the land on which the rear tennis court now stands.
Valarie and John Massam moved here as the third owners in 1985 and, to their delight, Lady Caughey called in one day on one of her regular Mercy hospital visits and Valarie gleaned insights into life in the days when the maid's quarters were upstairs in what is now a double bedroom.
Valarie also learned of the story behind Lady Finlay's 1912 silk satin wedding dress that was, unbeknown to all, wrapped in a pillowcase and packed in a hat box in the cellar until her daughter found it 55 years later.
That cellar has held a magical appeal for the Massam grandchildren hunting for pirate's treasure. Valarie and John believe it may have been earmarked as a war-time air-raid shelter.
For the Massam family, life here has been about expansive, sociable family living. With its in-ground pool and tennis court, this place was a natural drawcard for their children's friends as well as their own social circle.
Gifted a substantial, open site, the early 20th-century architect of this home drew up plans with a high stud throughout and well-placed windows and French doors, ensuring plenty of natural light.
Subsequent additions and alterations included the leased doctor's five-room suite at the front, two rooms of which were part of the original house. This professional suite has a separate visitor's entrance as well as internal access into the main house.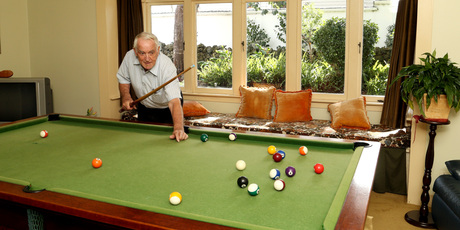 Within the house itself, the relatively modern timber and laminate kitchen has a five-seat breakfast bar, a dining table, a walk-in pantry and smaller living area for more relaxed dining.
In the large master bedroom there is a dressing area and built-in vanity near the separate bathroom. The rimu timber stair balustrades are a clue to the native timber behind the wallpapered walls and beneath the carpeted stairs.
That work is for another family, however. John and Valarie are ready to hand over the well-thumbed document folder on this house, which also contains a September 1990 NZ Herald clipping of the story of that wedding gown.
Says Valarie, "For us it's a home that has been well lived in and which we've not been precious about. It has been a practical, very liveable home for all of us."