11A MACMURRAY RD, REMUERA
SIZE:
Land 1088sq m, house approx 252sq m
PRICE INDICATION:
CV $1.89 million (2011)
INSPECT:
Sun 12.30pm-1.15pm. Auction April 9.
SCHOOL ZONES:
Remuera Primary and Intermediate, Auckland Grammar, Epsom Girls' Grammar.
CONTACT:
Linda Galbraith, ph 021 966 028
FEATURES:
*Plus 2 off-street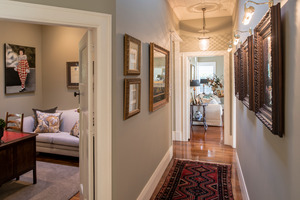 In an era when tired character homes are regularly "consigned to the knackers' yard", interior designer Christine Coldwell and husband Baz rolled up their sleeves instead.
This early-1900s home was so tired previous owners had thought it would be best demolished and replaced.
Not so Christine, who's got a keen eye for potential and 12 years ago was on the look-out for somewhere with great school zoning for the younger two of her three daughters.
"It was a good challenge for me," she says with a twinkle in her eye, mentioning that part of the reason they got a couple of cats after moving in was to deal with the resident rodents. The cats dealt to the rats while the couple dealt to interior decor awash with textured concrete paint so gritty one daughter suffered a graze on it in the shower.
Christine and Baz reconfigured almost the entire layout, rebuilt and extended the home's rear and added a garage with studio-office.
They re-invented the grounds to make the most of spacious level land and got married here nine years ago.
They also made the formerly leasehold property freehold a few years ago.
"We think this house dates from 1905 because when we took it apart we found evidence in the walls, with stamps of 1905 on the wood. It would have been one of the early homes in this area, all built of kauri. We wanted to keep it 'in the era'. It has a lot of villa features in it and it's almost got a little bit of a Cape Cod styling to it with its windows."
Behind a front rock wall is a large, level front yard. "I think it's getting more unusual these days to find a single-level house of this size on big flat grounds. That makes it really easy to live in."
The double garage with rear office or bedroom has side-by-side off-street parking out front. Shortly after moving in the couple downed a couple of wines before taking a sledgehammer to a puzzling front room closed in with 70s windows.
This revealed an original front porch, which they reinstated.
"Finding that was a real highlight," Christine says.
The front door opens to a foyer and a big-hearted, gently atmospheric home. "It's not what you'd call a real 'designer's house'; I wanted something very classic and comfortable that my family could really enjoy living in."
The expansive rear kitchen-family room embodies this attitude, from its chef's kitchen with Carrara marble benchtops and dual ovens to its relaxed living. This space features one of the home's four fireplaces, bolstering central heating.
It flows out to private rear outdoor entertaining with another fire and defined garden rooms.
"We've softened the grounds a lot. I like lawn and gardens and greenery."
The home is a versatile entertainer, coping equally well with casual alfresco dining, parties and a 100-guest wedding.
A front formal dining room sits alongside the formal lounge opening to that reinstated front porch.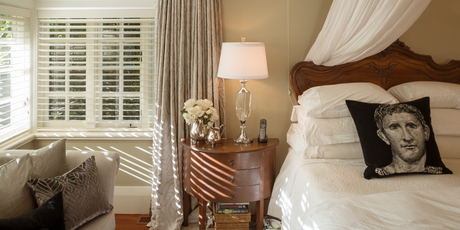 "Baz's favourite room is the lounge because it's such a tranquil and relaxing space. I love the whole house but the master bedroom is probably the room I love most. You get beautiful light in there and it's got a great ambience. It's a lovely place to wake up and it's also got a lovely atmosphere at night."
This front master bedroom with fireplace and en suite is accompanied by three more bedrooms in the main home, including two opening to rear grounds.
A family bathroom, another bathroom with a cupboard laundry and a study complete the layout. The couple are selling because Christine wants the challenge of using her interior design skills in a new home they'll have built for themselves.