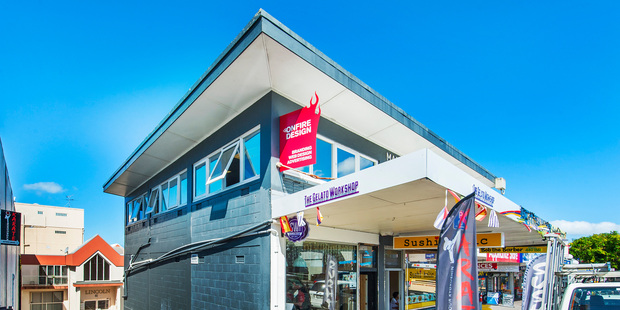 A high-profile Birkenhead building has come up for sale with multiple tenants in the heart of the suburb's shopping district, across from Highbury Shopping Centre.
The freehold property at 69-75 Birkenhead Ave, known as the Martyn's Building, will go under the hammer on April 9 at Colliers International's auction room in Auckland.
"The building sits on a rise on Birkenhead Ave with a glimpse of the Waitemata Harbour and the Auckland CBD 8km to the southeast," says Euan Stratton, who is marketing it with colleague Craig Newth.
"It is seldom that opportunities to acquire a freehold, standalone commercial property in this location become available," Stratton says. "The property splits the investment risk across five tenancies returning $72,459 per annum, with some additional potential for rental growth from a monthly tenant in the basement warehouse area.
"It is an attractive investment to add to an existing portfolio, and it will also interest an astute buyer who wishes to add value to a well-located property in one of the North Shore's largest village shopping districts."
The three-level building on a 253sq m site, at the entrance to Birkenhead opposite a KFC outlet, has a total rentable area of 422sq m.
Three retail shops with varying lease terms occupy 134sq m on the ground floor. Sushi Holic rents the largest, 48sq m, for $18,500 on a six-year lease that began in 2010, with one six-year right of renewal.
New Start Trade Corporation rents space for $18,500, on a three-year term that began last June, with two three-year rights of renewal. Both these leases could extend until 2022.
The third retail shop is leased by Bob the Barber for $15,335 on a monthly tenancy ending in November this year.
The 137sq m of office space above the shops, accessed by a stairwell at the end of the building from the footpath, was recently refurbished and is leased for $18,841 on a two-year term ending this June. The basement space covers 151sq m and is rented out on a short-term tenancy for $1288 a year.
The property is in the Business 2 Zone, designed for suburban shopping and dining activities, with a maximum development height of 9m.
"This is a solidly constructed, well-maintained concrete building with a recent IEP [initial evaluation procedure] rating of 60 per cent through an independent engineer," Stratton says. "Office space on the upper level is a mainly open plan, with one separate office. It is light and airy with large windows, new ceiling grid and carpet tiles making for an attractive tenancy.
"The retail tenants on the ground-floor level have personalised fit-outs to a good standard. The property also has a secure lower-level storage unit with roller-door entrance and an extra pedestrian entrance. Being on a monthly tenancy, the basement is a nice extra that provides a good opportunity for rental growth."
Land at the rear accommodates four carparks, accessed from a right of way behind the building.