APARTMENT 3, 47-49 CHURCH ST DEVONPORT
SIZE:
Land 1/3 share of 870sq m, house 330sq m
PRICE INDICATION:
CV $1.225 million. Auction April 10
INSPECT:
Sat/Sun 2.15pm-3pm
SCHOOL ZONES:
Devonport School; Belmont Intermediate; Takapuna Grammar
CONTACT:
Prue de Bie, ph 021 521 242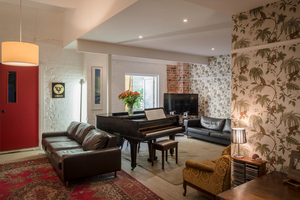 Debbie Harwood's been a happy force in New Zealand music over four decades. Her girl band When the Cat's Away was ahead of its time, producing cute cat videos long before YouTube cornered the market, although the girls' fashion was very much of the time (Google their biggest hit, a cover of Blue Mink's Melting Pot, and you'll see a hitlist of all things 80s - big hair, high-waist jeans and a riot of colour).
The singer-songwriter laughs that there are only two places she'd ever live these days: "Devonport - or not Auckland."
True to her word, after living in the seaside suburb since 1984, Debbie is heading to Sydney, where her new husband Paul has work as a sound engineer. "I love an adventure," she says. "I've moved all my life. I love being spontaneous, I always say yes. After a near-fatal illness four years ago, I got a second chance. Life is too short, there's no point in saying no to anything."
The move hasn't been popular with the couple's family and friends. The five-bedroom flat has hosted numerous parties, big and small. The most recent gathering was the bash for Debbie and Paul's wedding; and earlier in the summer, at daughter Gala's 20th birthday, 50 friends partied in the downstairs space.
The apartment, one of three converted from the old power station in 1986, is roomy enough to spread out. Today the same space would be chopped into tiny boxes; back then there was still room for creativity. Debbie lived down the road at the time and remembers watching the builders at work. "I absolutely coveted this building and 24 years later, I'd been around the world and come back and here I am."
Three levels were carved into the empty space, with a few half-floors in between (a mid-level bathroom; the sunken lounge).
Double-height windows draw northern light into the mid-level living room, a ground-floor courtyard lights the studio while a bridge from the kitchen and dining room leads to a sunny, sheltered courtyard, bigger than most backyards in Ponsonby.
The renovation had quirks that Debbie didn't want to disturb - the etched glass French doors that open the ground-floor studio to the garage/shared party space have an Egyptian motif, and exotic wallpapers in the studio and master bedrooms continue the theme. Entry to the apartment is through an enormous shared garage. Lit with frosted globes, it becomes the shared party space between the three long-term owners. The sweeping ground floor dwarfs Debbie's grand piano and has been an ideal recording studio.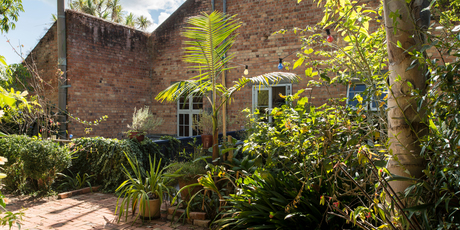 A separate room, with kitchenette and bathroom, is Paul's studio/office but has been a small flat in the past. The middle floor houses the welcoming kitchen, dining room and living room. The couple adore cooking - Paul has built window-boxes for the herbs and lettuce - and the industrial heft of the cooker and tap are appropriate for the high-ceilinged space, while a walk-in pantry stores their supplies. Debbie loves how the space can take their huge pieces of art and their collection of furniture. Floors of rewarewa (honeysuckle) are the envy of woodworking friends, and add warmth to the concrete.
The garden has become the family's peaceful retreat from their busy lives. "We're only 12 minutes from the ferry and the city. But every time I come home I feel like I'm on holiday," Debbie says. "Paul is from Ponsonby, it took him a while to get used to this side. But now he doesn't want to leave." But the logistics of keeping their home are too tricky, so they are selling this rare find.