Major manufacturing company is determined to be Kiwi-focused, writes Colin Taylor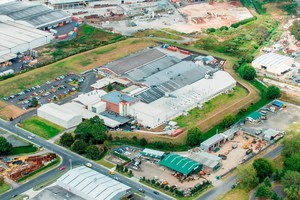 Vowing to keep its manufacturing base in New Zealand, Griffin's Foods has put its two South Auckland factories on the market for the first time, offering a sale and leaseback deal to investors seeking an exceptionally long lease.
"The two properties will be leased back under a triple net lease by Griffin's for an initial term of 20 years with further renewal options," says Greg Goldfinch of Colliers International who, with colleagues Andrew Hooper and Peter Herdson, is selling them by private treaty closing at 4pm on April 7, unless they sell before that deadline.
Goldfinch says the Papakura and Wiri properties, a total landholding of 12ha, can be bought together or individually.
They produce a combined net annual income of $4.38 million, with the Papakura property generating net passing income of $2,641,770 a year and Wiri $1,744,514.
Each property is being offered with a new 20-year lease with three 10-year rights of renewal.
The leases have a compounding structured rental growth of annual 2.5 per cent increases and a market adjustment at year 10 "capped and collared" by 10 per cent.
With a 150-year history in New Zealand, Griffin's sells more biscuits and snacks than any other company in the country. Its products are sold in 24 countries with most manufactured at the South Auckland plants.
The larger of the two factories is the big Papakura biscuit plant at 29-31 Hunua Rd, producing in excess of 100 million packets of biscuits a year, including popular brands like Chocolate Chippies, MallowPuffs, ToffeePops, Gingernuts and the Huntley & Palmers' range.
The Wiri property at 39 Ash Rd manufactures the Eta and Nice & Natural snack brands such as Kettles and Spuds, plus a big range of other snack bars.
"We are exploring options to sell these properties to utilise our capital as efficiently as we can by further investing it over the next 10 years in innovation, new plant and equipment," says Clement Chia, Griffin's chief financial officer.
"Unlike many other New Zealand companies which have shifted their manufacturing overseas, we have made a firm commitment to stay here for the long term.
"To do so, we upgraded our equipment, improved efficiency and expanded capacity with the latest technology to ensure our products are innovative and of the highest quality.
"As a result, we have grown the company significantly from a New Zealand-based company to a big export driven international business, with over 30 per cent of our revenue now coming from overseas markets."
Goldfinch says industrial offerings of the quality offered, in relation to the tenant covenants and lease term only rarely come up for sale on the open market."Having stated they plan to keep all their manufacturing here in New Zealand for the long term, Griffin's represents an ideal tenant in every way as well as being an iconic New Zealand brand and a world class manufacturer."
The Papakura biscuit factory on Hunua Rd is the only big biscuit manufacturing plant in New Zealand, with about 300 staff producing about 20,000 tonnes of biscuits a year.
It has a site area of 83,900sq m and a factory area of 22,848.8sq m.
The property has buildings from the 1960s with a major addition in 2007.
The ground floor encompasses recently refurbished offices while the manufacturing and processing area is spread over several bays that have been lined to a food-grade standard.
A storage warehouse at the southwest end has a clear-span steel frame to a stud height of 5.6m rising to 9.5m, with a brick facade and three roller doors. The chocolate factory is located adjacent to the three-level manufacturing building.
The site is secure, fully fenced and includes a staff car park. Surplus land through to Boundary Rd is covered in grass.
Hooper says the Papakura site is in an established industrial location with good transport links to State Highway 1 via an access ramp 3km to the west.
"Papakura provides a solid surrounding labour force. Neighbouring businesses include well-known companies such as Independent Liquor and Humes and Fletchers.
"For distribution purposes, the location is relatively close to Auckland International Airport, about 24km to the west."
The Wiri snack factory is the smaller of the two plants. Sitting on a 34,600sq m site with a factory area of 13,993.4sq m, it produces 15,000 tonnes of snack food a year.
The property's manufacturing area was originally completed in 1972 with subsequent additions and alterations.
Most of the buildings are of concrete block with heavy-duty concrete floors and fibrolite cladding.
The property has three buildings, including two refurbished offices, with potato chip and snack manufacturing to the rear; a storage building; and a large snack-bar manufacturing and storage building to the south. The offices extend over two levels at the roadfront boundary and the first floor has an open-plan layout with wooden floors. The main manufacturing area at the rear of the offices comprises clear span bays with a stud height of 5.5m to 8m. At the back of the property is a large 7.2m to 8.6m-stud warehouse with three roller doors. The southern building contains the bar manufacturing lines and packing areas, with a high food grade manufacturing fit-out.
Wiri is 24km south of the Auckland CBD and 9km from the airport and is well supported by nearby residential labour pools.
Herdson believes the response from investors for the Griffin's offer is likely to be very favourable. "We are seeing increasing interest from large syndicators and large listed and non-listed institutional investors for property investments of this size and scale in New Zealand.
"They are chasing long-term leases with stable, internationally recognised tenants in a strong market position, and this is one of the best offerings we expect to see this year.
"Griffin's is the No1 leading player in its industry in New Zealand and growing in Australia.
"The company has had strong financial performance with consistent margins, high cashflow and a track record of growth across business cycles. This is a blue-chip tenant that will provide solid rental income for many years."
Griffin's traces its beginning back to 1864 when John Griffin set up as a flour and cocoa miller in Nelson. Biscuit and confectionery production began in the 1890s under the name Griffin and Sons.