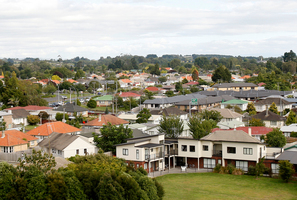 A suburb-by-suburb comparison of the property market in the North Island shows values have climbed the most in Rotorua's Fordlands, Tuakau - south of Pukekohe, and the Hamilton suburb of Rototuna North.
The QV.co.nz quarterly report showed average values in suburbs and areas based on a computer valuing tool.
The Fordlands area saw the biggest increase in average value in the 12 months to December 2013, with a 12.4 per cent increase. The average value of homes in the area was $118,700.
In Tuakau, the average value increased to $331,150, a rise of 9.2 per cent over the year. The area is now one of the most expensive in the Waikato region outside of Hamilton - along with Cambridge and Leamington, which also saw significant increases in value.
The Hamilton suburb of Rototuna North saw an 8.6 per cent increase, to $479,800, and is one of the most expensive suburbs in the city. The priciest is Huntington, with an average value of $528,850, which saw a 6.5 per cent rise in the year to December.
Most Hamilton suburbs increased in value, with only Bader recording a fall.
Housing became more affordable in Kuratau, near Turangi, which saw an 11.4 per cent decrease in property values, to an average of $368,650.
Values in Kaitaia, Northland, fell by 4.1 per cent, while in Featherston, Wairarapa, the average value fell by 3.7 per cent.
In Wellington, Lyall Bay homes saw the greatest increase in value, of 7 per cent, while the highest average value was in Seatoun, with $925,500.
Values are calculated by QV using E-Valuer, an automated model using recent sales of comparable properties in the area. The average figure is a weighted average of the E-value of each house in the suburb.
Change in year to December 31, 2013, based on average E-Value
Largest increases:
Fordlands, Rotorua: +12.4 per cent
Tuakau, Waikato: +9.2 per cent
Rototuna North, Hamilton: +8.6 per cent
Largest decreases:
Kuratau, Waitomo/Taupo/Ruapehu: -11.4 per cent
Kaitaia, Northland: -4.1 per cent
Featherston, Wairarapa: -3.7 per cent
Source: QV.co.nz
- APNZ