St Benedicts St property handy to motorway and inner-city amenities.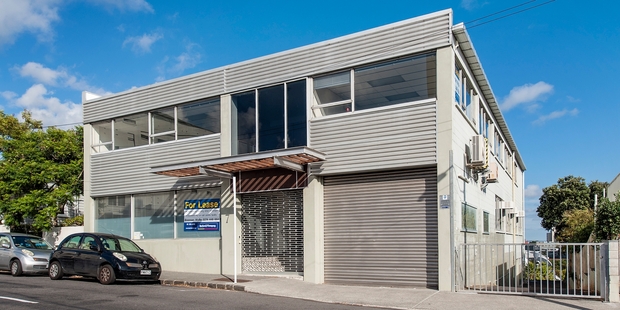 For the first time in 10 years a stand-alone office building has come up for lease in Newton that will appeal to creative and commercial companies looking for headquarters on the fringe of Auckland's CBD.
"Most recently used by a multinational company as a head office and call centre the building was originally built for Wang New Zealand," says Brennan Wyllie, commercial and industrial agent with Barfoot & Thompson. The property at 7 St Benedicts St is for lease on behalf of Carlyle Investments.
The building has three floors totalling 1138sq m with a mix of offices and showrooms.
An added benefit is the lower ground space with roller door access to a private driveway on the northern side of the building. There is secure parking at the rear of the building, accessed by a gated driveway.
"This area would be ideal for office use, mailhouse, courier deliveries, secure storage and assembly requirements," Wyllie says.
"The building is available to be leased by one tenant and alternatively the floors can be leased separately.
"Each floor is fully self-contained and there is plenty of short and long-term car parking offsite in addition to good onsite car parking."
The refurbished and modernised office building is of full concrete construction with concrete floors on all levels.
The exterior walls are a combination of plastered and painted concrete block and Zincalume metal cladding incorporating aluminium clear-glazed windows.
Wyllie says the building has been designed to give an urban industrial feel with its high stud and exposed cable-trays.
"The floors have both carpet and polished concrete finishes that can be altered to suit a tenant's preference."
Ground-floor front offices are soundproofed and include "hush" glass and double glazing. At street level the building is accessed by a striking foyer that is protected by a large automated security grill.
The entrance leads to the front reception and offices through an industrial-type tread-plate stairway to the first floor.
"The ground floor offers excellent versatility and would suit any office or display showroom use," Wyllie says. "It also provides a cart dock entrance which has not been used in recent years and now contains two offices at ground-floor level.
"This feature could easily be removed and replaced with matching glazing on the road front if required."
The upper level provides a mix of partitioned and open-plan office space with a tiled suspended ceiling and fluorescent light fittings.
Like the ground level, this floor has full bathroom and kitchen amenities.
"Featuring excellent natural light this floor has a pleasant outlook with views across the city," says Wyllie.
The total area of 1138sq m is being offered for lease for $241,580 a year excluding GST; the ground-floor office area of 455sq m is charged at $220 a square metre for $100,100 a year, the 460sq m first-floor office area at $230 a square metre for $105,800, and the lower ground floor of 223sq m at $160 a square metre for $35,680.
The property's 18 car parks are available for rent for an additional $45 a week each or $42,120 in total a year.
The freehold property zoned Mixed Use comprises two adjoining sites situated off the western side of St Benedicts St on the southern fringe of the Auckland CBD. St Benedicts St extends from Newton Rd in the south through Alex Evans St in the north.
"This is an established commercial locality to the west of Symonds St, where development includes a range of low and mid-rise mainly pre-1980s commercial buildings interspersed with medium to high density residential in-filling from the 1990s," Wyllie says. "Some older industrial buildings have been turned into loft-style apartments."
Symonds St and Upper Queen St are a short walk away and provide retail shops, restaurants and cafes. The location is well served with public transport and motorway access and the planned Newton Station on the City Rail loop will be close at the convergence of Khyber Pass, Symonds St and Mt Eden Rd.
What's on offer
For lease: Three-level city fringe office building
Where: 7 St Benedicts St, Newton
Agency: Barfoot & Thompson Commercial
Total area: 1138sq m
Annual rent: $241,580 excluding GST
Parking: 18 parks at $45 a week each or $42,120 a year
Zoning: Mixed use