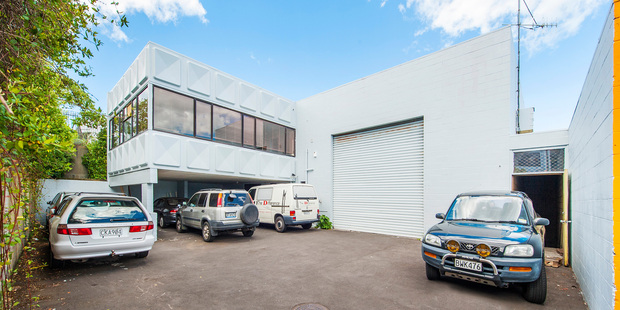 A well-sited warehouse and office building in the popular industrial Wairau Valley area of Glenfield on the North Shore is on the market with vacant possession, offering ideal premises for an owner-occupier.
"The current owners bought unit C at 165 Sunnybrae Rd in 2007," says Tim Bibby of Barfoot & Thompson Commercial, who with colleague Gary Seekup is marketing the property for sale by auction at 10.30am on Wednesday, February 26, at the agency's offices at 34 Shortland St.
The property is one of three early 1980s unit titled industrial units and consists of a warehouse with a total nettable area of 575sq m and seven car parks on a 1938sq m freehold site.
The rear unit is in an elevated position on the Business 9 zoned site.
"The vendors were themselves owner occupiers until they sold their business," Bibby says.
"Valuers have assessed the fair market rental at around $60,000 net a year plus GST and outgoings."
The building is of conventional concrete block construction with an iron roof supported by a steel frame. The factory floor, with a flood height of about 5.5m, is well lit by fluorescent lighting, supplemented by translucent skylight roof panelling.
Aluminium window joinery is provided throughout.
Bibby says the property has a number of possibilities with the retention of the large mezzanine area through to its removal to allow a larger high stud area of approximately 376.5sq m from the present 218.5 sq m. This would have the effect of reducing the overall total net lettable area but would improve the high stud warehouse-to-office ratio and would further improve the appeal of the building to a wider range of tenants.
Office and amenties would still amount to 198.5sq m giving adequate space to most types of businesses.
Seekup says the property is near the busy traffic light-controlled intersection of Archers Rd at Sunnybrae Rd which provides a busy connecting route to the north and south past Porana Rd, Argus Place and Coronation Rd through to Northcote Rd and on to the State Highway 1 motorway.
"Being a rear site, the property does have limited exposure, but the passing high traffic counts along Sunnybrae Rd could be made aware of a resident business with prominent signs," Seekup says.
The property's Business 9 zoning allows for a wide range of employment generating business activities. Seekup says the site has a gentle to easy rise up from the road and is near-level towards the rear boundary. "Vehicle access is down the north western side of the property with a formed concrete and asphalt common driveway and access-way," he says.
Carparking is provided in the front forecourt and in the surrounding yard. Four end-on car parks are under the office building, two end-on car parks are in the northern corner and one carpark is next to the roller door.