49 HARRY DREADON RD, DRURY
SIZE:
7637sq m; house size: 572sq m.
PRICE INDICATION:
Offers over $2 million.
SCHOOL ZONES:
Drury School, Ramarama School, Ararimu School, Drury Christian School.
CONTACT:
Marcus Hill, ph (09) 523 2815, 021 430 665, email marcus.hill@raywhite.com.
FEATURES:
*Plus covered parks.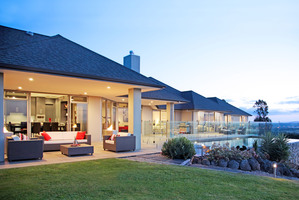 It's a wonder the two red leather swivel chairs in Jim and Lorraine McChesney's sitting room aren't worn out. The two of them sit there to enjoy the sunsets, see the weather coming in, look at the Sky Tower and the Bombays, and follow the gliders far below.
Views are everything at this Drury property, appropriately named High View. Lorraine thought they'd take the expansive view for granted, but that hasn't been the case, and just as well, since they went to a lot of effort to secure this site.
"We sold 15 acres at Karaka because we wanted less land and a new project," Lorraine explains. "We had lived next door to the owners of this land and we asked if we could buy it, but the owner said he had promised it to his son. Five years later we still hadn't found anything we liked so I said to Jim, 'let's ask again'."
The owner's son did want to sell and Lorraine and Jim couldn't believe their luck. They commissioned Malcolm Glasgow to design the house and were impressed that he came often to absorb the setting. They wanted a large house with spacious rooms and a separate guest wing.
They call the area The Loft, but it hasn't been used for guests as often as they expected. "There has been one or the other of our kids there for quite long periods of time," Lorraine says.
Other items on the wish list were a study, underfloor heating, surround sound, ceiling fans and a pool. Lorraine and Jim had had a pool when they were first married, then not again for many years. They thought it would be great for grandchildren, and they love this infinity design with its stone surround. Inside the house is a dedicated changing room with classic wooden pegs for togs.
Lorraine has taken a natural approach to the interior with neutral shades for walls and floors, but she's indulged her passion for red in furniture and decorative items. A favourite artwork in vibrant red hangs over the fireplace in the sitting area. She's used varying tones of aqua in bedrooms and bathrooms and another painting in deep aqua is a focal point of the entranceway.
The kitchen, with its warm grey cabinetry and subtle touches of colour is another favourite space, and Lorraine loves the scullery, which runs the entire length of the kitchen and has its own dishwasher - great, she says, for hiding mess. "Jim wanted an upstand on the island bench to hide mess but we didn't need it."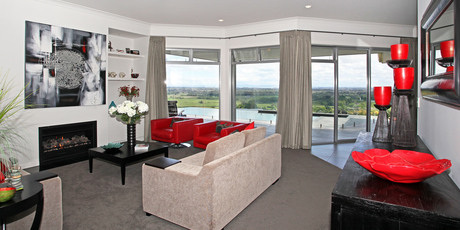 Sliding doors open from the dining room and most other rooms in the house to the outdoor living areas, which are paved to match the living areas and create a seamless transition.
"We had our eldest son's wedding here a couple of years ago and it was the ideal setting," Lorraine says.
It's one of the great memories she and Jim have of the house but they accept it's time to downsize and, in some ways, the couple are looking forward to a new challenge. Their next move may be closer to Hamilton, where their children are, and the plan is for a simpler home they can easily leave behind to go travelling.