Analysts say outlook indicates growth across all properties, in New Zealand and Australia.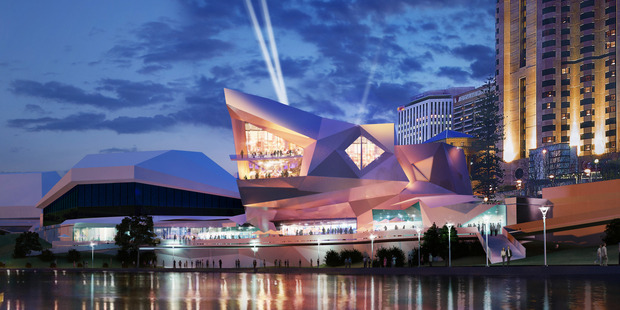 Analysts were heartened by SkyCity Entertainment Group's bullish forecasts for the last six months of this financial year, released with the interim result out yesterday, after a sluggish first half.
Macquarie's Warren Doak said the outlook commentary indicated growth from all properties here and in Australia after SkyCity chief financial officer James Burrell revealed a solid January.
"Normalised revenue in January was 11.9 per cent above the prior year, with growth across all businesses," Burrell said yesterday. "Even including the impact of the strong New Zealand dollar, actual normalised revenue was up 5.4 per cent on January 2013."
Morningstar's Nachi Moghe said the next leg of growth would come from Adelaide and Auckland and the Adelaide redevelopment and casino transformation was proceeding according to expectations.
Marcus Curley of Goldman Sachs NZ noted how no new information had been released on the full year but the company had pointed to a revenue pickup in January and had earnings growth expectations across all businesses in the second half to June 30, 2014.
SkyCity revealed net profit dropped 10.7 per cent in the December half-year and the company released an overview headlined "disappointments and challenges", noting the strong Kiwi dollar, disruption to Adelaide caused by the upgrade, Auckland's Federal St changes and softer Darwin gaming revenue.
The business with its headquarters in Auckland and extensive Australasian gaming interests made revenue of $465.1 million (down 4.6 per cent on the previous corresponding period) and normalised net profit of $66.4 million in the six months to last December 31, down on the previous $72.1 million.
Citi Research's Michael Goltsman forecast $132 million full-year net profit after tax, a 3 per cent drop.
"Medium-term earnings growth will be underpinned by the development projects at Adelaide and Auckland casinos," he said.
Lafitani Sotiriou of Bell Potter Securities in Melbourne, with a buy recommendation, noted an already improving trading environment and said all developments were on track which should deliver healthy growth. Confirmation of an Adelaide 1400-carpark development beside the casino, with 1000 parks for SkyCity, was a positive.
Nigel Morrison, SkyCity chief executive, said that resolved the final issue in Adelaide where work was well advanced transforming parts of the existing historic railway station, which the company leases.
Macquarie's Warren Doak said the result contained no surprises but SkyCity appeared to lack a real earnings momentum.
Morrison told a media briefing how no cheats had scammed the company after he revealed last year that 20 gamblers had left without paying $2.4 million in debts. No provision was made for bad debts in the latest result, he said. The biggest single payout to one gamer in the December half-year was around $2 million on baccarat, won over a few days, Morrison said.
The international convention centre for Auckland was on track and new plans would be released soon, he said. A more detailed design and resource consent phase would then follow with the possibility of demolition later this year.
"I sense it doesn't need to be notified and we're working very closely with the council," he said, revealing that only one airbridge would be built over Hobson St.
Warren and Mahoney's John Coop and Andrew Barclay are working on the centre, with Woods Bagot's Gavin Kain and Moller Architects' Craig Moller.